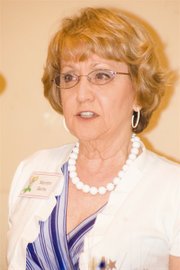 PROSSER - Throughout Marilyn Barba's childhood she was constantly reminded of her big "ugly" eyes, and her not-so-fast learning curve.
She told the Lower Valley Christian Women's Connection at this past Tuesday's monthly meeting that the negative perceptions of others ultimately became her reality.
"I was living down to their perceptions of me," she said. "Their perceptions became my reality."
After several rough patches in her life, Barba had an epiphany moment, where she finally understood that God wanted a personal relationship with her.
"He loved me so much," she said.
She learned about how accepting Jesus as her personal savior could mean she was justified in God's eyes.
"Just as if I'd never sinned," she said. "That's what justified meant to me."
After cultivating her relationship with God, she began to find a confidence that she never knew before.
God's perception of her was becoming her reality.
After encountering a tough work-related situation, she decided to take matters to the judicial system. Sexual harassment was commonplace at her place of employment. After enough was enough, Barba finally filed four separate litigations against the company she worked for. The end result from her four victories was the company ended up with a sexual harassment policy and a safe place for future female employees to work.
After meeting with a psychologist, the professional wondered why Barba wasn't more broken over the intense litigation processes.
"It was your faith," said the psychologist.
"God had been my only source of support," Barba said. "They could not touch my faith."
Barba ended her presentation with an encouraging note that God has perfect plans.
"He has a plan for your life," she said, urging listeners not to give up in tough situations, but to cling to God for hope and strength to continue on.
Amber Schlenker/Daily Sun News
Marilyn Barba tells Lower Valley Christian Women Connection members how God's perception of her changed her reality.
1 Amber Schlenker 6/14/2012 7:14 AM