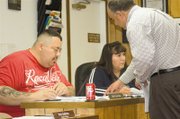 MABTON - Earlier this month the City of Mabton was awarded a Community Development Block Grant from the Washington State Department of Commerce for the city's efforts in upgrading and expanding the wastewater treatment facility.
The grant, in the amount of $759,000, will be available to the city this fall along with other grants and loans to continue with the upgrade.
Gray and Osborne civil engineers showed at Tuesday night's Mabton City Council meeting to outline the funding scenarios between which funds to use to complete the project.
The total funding available, including the recent and previous grants, along with loans, totals $6.4 million. The total cost of the project is estimated at $5.6 million, leaving the city with excess funding of more than $700,000.
The engineers suggested council hang on to the money until the project is complete, just in case something goes awry. But once the project is complete, the engineers say there isn't a penalty for returning the funds to the state.
More like this story