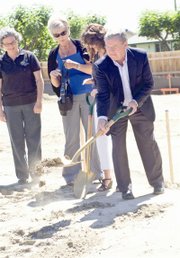 GRANGER - It's been 13 years since Yakima Housing Authority has broken ground on a new property.
That is until yesterday, when the group held a groundbreaking ceremony for the coming Cosecha Court seasonal agricultural worker housing complex in Granger.
"It's a historic day for Yakima Housing Authority," said executive director Lowel Krueger.
The groundbreaking ceremony was the beginning of construction on the property set to serve 76 individuals, but it was also the culmination of nearly two years of hard work in gathering and obtaining proper permits and funding for the project, according to Krueger.
"All the hard work is now coming to fruition," he added.
Krueger also said City of Granger employees have been instrumental in the project, citing Public Works Director Jack Burns helping secure funding through a Community Development Block Grant.
The foundation has been poured for the 10-unit two-bedroom apartments, and construction workers say that walls will be put up by the end of the month.
Also, among the celebrants at yesterday's event was Sunnyside native and United States Department of Agriculture Rural Development State Director Mario Villanueva. USDA is a funding source for the project, and Krueger says Villanueva was a dynamic asset to gain the funds.
The $3.5 million project, which includes site development, construction, street improvement and professional and technical fees, is expected to open its doors next April or May, 2013.
Nearly $3 million of the funds for the project came directly from Villanueva's office.
"The funding is from the USDA at the national level but administered through the state, and Mario's office," Krueger added.
Additional funds were acquired by the state Department of Commerce through grants and a housing trust fund.
Others involved in the project include the Office of Rural and Farmworker Housing, which Yakima Housing Authority officials enlist as the organization's developer for projects such as this. In addition, Krueger says Wenatchee's Forte Architects and Spokane's Walker Construction have been diligently working to meet the construction and design deadlines.
Krueger added the project could be good for the community, especially with the high level of agricultural production the state puts forth.
"With agriculture being primary to the state's economy, this housing development is a good thing for the community and the economy," he said.