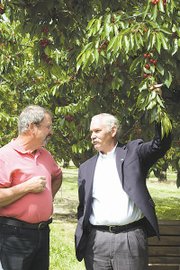 GRANDVIEW - Immigration, Far East export issues and the weather all came to the fore yesterday when a federal official visited cherry grower Don Olmstead Jr. at his Grandview orchard.
The Obama administration appointed Olmstead to the federal Farm Service Bureau two years ago and Tuesday the White House's under secretary for Farm and Foreign Agricultural Services, Michael Scuse, visited Olmstead's farm.
Olmstead, who with son Donnie farms about 200 acres, said his federal appointment helped get the attention of Scuse, a federal point man of sorts for exporting U.S. produce abroad.
The goal of Tuesday's orchard meet and greet was to help federal and state government understand the issues growers here in the Valley are facing.
It was mission accomplished, as Scuse - who farms 17 acres in Delaware - praised the quality of produce here as the best in the world.
In addition, he expressed optimism about the prospects of South Korea becoming more of an open market.
That would be good news to Olmstead and wife Barbara, who export about a third of their cherry crop. It goes out to Japan, China and Taiwan. He says Korea is expressing interest, but the big hurdle for that country and much of the Far East is the region's requirement to have fruit fumigated for pests before being shipped.
U.S. growers don't fumigate but instead, as Olmstead noted, take precautions with insecticide and pesticide through the growing process to produce as clean a crop as possible.
Scuse told the Daily Sun News the fumigation issue can be best resolved by improving communications with other countries about what U.S. growers do to protect their produce. He also said it's imperative his agency gets the word out to growers in this country about the restrictions other countries have for buying produce.
During the visit, Christian Schlect with the Northwest Horticultural Council quizzed Scuse about immigration reform.
Standing under Olmstead's trees heavy with cherries to be picked in the next week, Scuse said the issue of undocumented workers is in Congress' hands. He expressed hope lawmakers will take action in the next few months.
Of course, months won't help many growers in the Lower Valley who will rely on the workers in the next few weeks.
Scuse said producers around the country are facing the same issue with undocumented workers. While noting immigration is a "political hot potato," Scuse said lawmakers from agricultural states are feeling the pressure and may act.
During the visit, Scuse received an update on the Washington cherry crop, which is expected to reach $800 million in sales this year.
Despite a wet start to summer, Olmstead said he and other Grandview growers are seeing the best cherry season in years.
Thanks to Scuse's visit yesterday, he'll have an ally in getting his cherries to the world market.
"To have interest from the upper level of the USDA leadership, I think that's always good," Olmstead said.