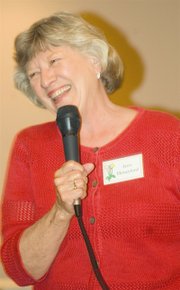 PROSSER - Growing up in Sunnyside and living in the area for much of her life, Jerri Honeyford resolved that staying in the valley wasn't a bad idea.
But after her husband, Jim Honeyford, was elected into the state legislature, she finally decided to join him for winters in Olympia. At first, she told the Lower Valley Christian Women Connection this past Tuesday, she didn't know what she'd do in Olympia.
"But there is a lot to do if you keep your heart open to the people around you," Honeyford said.
Though the culture and climate are much different in Olympia than she's used to, Honeyford says there are always people in need of a listening ear or a lending hand.
During one traveling quest with her husband, the two traveled through Bickleton. She saw an old barn that was slowly but surely falling apart.
"I said to Jim, 'if we don't do anything about this we aren't going to have these old barns anymore'," she said.
So the two began talking with colleagues and eventually passed a bill through the senate. The entire goal, according to Honeyford, was to preserve history in Washington state and the heritage that the old barns hold.
The state now offers matching grants to help restore the old barns and preserve their historic walls.
Honeyford says since 1994 when Mr. Honeyford was elected, she hasn't been home much.
"But I'm having the time of my life," she said.
For more information on the preservation efforts of barns in Washington state, visit dahp.wa.gov/heritagebarns.