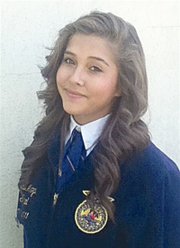 GOLDENDALE - Mabton High School FFA chapter member Jesenia Meza was this past Sunday elected to serve as the 2012-13 District IV FFA treasurer while at FFA camp at Brooks Memorial State Park.
The district consists of 32 chapters and Meza will be responsible for finances related to FFA activities, according to Mabton FFA Chapter Advisor Randi Krieg.
"This is big news for Mabton FFA," Krieg said, stating Meza is an example of the leadership displayed by the members of the chapter.
In addition to her duties for the district, Meza will this coming school year serve as secretary for her school's chapter.