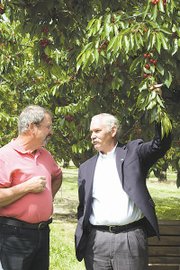 The new CEO at Sunnyside Community Hospital, John Gallagher, says that the people are the hospital's greatest asset.
"We have great employees here," he said. "They work here for the right reasons."
Gallagher, who started at the hospital in mid-May, is already settling in. His family will arrive in Sunnyside by the end of the month.
He doesn't anticipate any major changes at this point, although he's determined to make the hospital efficient.
"In health care, we are all challenged right now," he said. "The key is to ensure we provide great care."
Gallagher said Sunnyside Community Hospital has a strong foundation, one that will allow growth. He described five pillars of health care: people, service, quality, finance and growth. According to Gallagher, Sunnyside has all the pillars in place.
"The hospital has great people," he said. "I've really enjoyed working with the people here already."
In the service category, he said customer service is key to success.
"I want people to have an excellent experience when they come to the hospital," he said.
The hospital already has a good foundation in quality. But it can always be improved, according to Gallagher.
"We want to provide quality care. Period," he said.
The financial situation of the hospital is adequate, but Gallager said he will be looking for efficiencies to keep the finances healthy. He noted the hospital sometimes faces challenges with reimbursement, but believes those can be overcome.
"There is a great advantage to being an independent hospital," he said. "We can give more back to the community and reinvest in our own facility."
He also cited growth as an important part of the hospital's strategy.
"Our biggest liability is the highway," he said. "People can hop on and go to another facility down the road. We want to offer everything they need here to meet all health care needs locally."
For the moment, Gallagher says the hospital is waiting for some certainty on the health care law, which should be determined later this month.
Gallagher is working on new programs, but doesn't want to take away anything the hospital already has going.
"Mostly I'm going to be tweaking," he said. "Little changes to make the hospital better, not major changes."
Gallagher said he will be filling a few management positions, including the CFO, that have been vacant for a time.
"It's good to have a new set of eyes to look at all the aspects of the hospital," he said.
"My vision is for Sunnyside to be the best rural hospital."