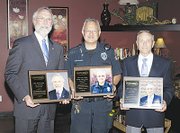 The Sunnyside School District inducted three more former Sunnyside High School students into the school's Wall of Fame last Friday.
The three new members include a professional jockey, a longtime police officer and a former state representative. The inductees were also honored during graduation ceremonies last Friday night.
Joe Baze
Joe Baze graduated with honors from SHS in 1951. After high school, Baze became a nationally renowned professional jockey. He has raced on most of the professional tracks in the western United States.
Before his career was shortened by an injury suffered in a racing accident, Baze won more than 2,000 of the 10,000 professional races he rode in.
Baze also knows how to teach people to ride. His son, Russel Baze, is the all-time world-leading jockey, with 11,500 wins over 60,000 races. In 1976 the Seattle Post Intelligencer newspaper named Joe Baze and his family as the "Sports Family of the Year."
Chico Rodriquez
Severiano "Chico" Rodriquez has been a fixture in the community of Sunnyside for a very long time. He graduated from Sunnyside High School in 1966, and has been a servant and leader in the community ever since.
Rodriquez serves Sunnyside with such commitment and enthusiasm that practically everyone in the community knows "Chico."
"You know you're a star when you are known by one name," Superintendent Dr. Rick Cole noted.
Rodriquez has served as a Sunnyside police officer for more than 25 years. He has coordinated the Midnight Live program for area youth on New Year's Eve for 10 years and spent a decade as a school resource officer, building relationships with youth. In 2010, Rodriquez was named the Sunnyside Hero of the Year.
Dan Newhouse
Dan Newhouse graduated from Sunnyside High School in 1973. After high school, he studied agricultural economics at Washington State University before returning to Sunnyside to farm.
In 2003, Newhouse was elected to the Washington State House of Representatives from the 15th District. He served in that role, always advocating for issues that were important to Sunnyside, until he was tapped by Governor Chris Gregiore to become Washington State's Director of the Department of Agriculture.
In his current role, Newhouse continues to represent and advocate for the farmers and agricultural laborers on which the Lower Valley community economically relies.
Newhouse also has served as a board member and past president of the Hop Growers of America.