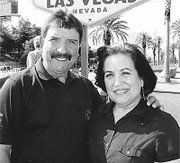 Roberto and Eva Garza have lived in Sunnyside more than 50 years and have been married for 40 of those years.
The couple was married on May 6, 1972 in St. Joseph's Catholic Church in Sunnyside. They made vows to love each other forever, and after 40 years the love is still going strong.
In May of this year, the couple celebrated their milestone anniversary by visiting Las Vegas together.
The couple has four children and six grandchildren. Their daughter, Luz, lives in Las Vegas.
A son, Roberto, lives with his wife Jenny and three children (Chastitee, 11, Aubrey, 6, and Prince, 4) in Sunnyside.
Another son, Josue, lives with his two sons Nathaniel, 10, and Andrew, 7, in Grandview.
Also living in Grandview is their son, Ivan, with his wife Heather and their newborn son Raiden.
The couple have worked at Independent Foods for more than 30 years and travel to Nuevo Leon, Mexico during Christmas vacations to spend time with relatives.