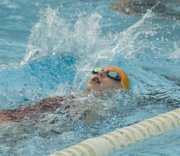 The Sunnyside Rotary swim team proved that Sharks bite harder than Barracudas. In its season, and home, opener last night Sunnyside routed the Othello team by a definitive score of 505-239.
The home team came away from the meet with 38 individual wins and 12 wins in the relays.
8&U
In the 50-meter butterfly, the Sunnyside boys, led by Brent Maldonado in a time of 1:23.50, took the top four places to earn the maximum points for their team.
Logan Rodriguez excelled for the Sharks, taking the top spot in the 50-meter breaststroke (1:18.16), 50-meter backstroke (1:06.57) and freestyle (54.95).
10&U
Clay Schilperoort was the outstanding athlete for the Sharks, winning all five individual boys events. In the butterfly, he clocked in at 1:02.69, more than 17 seconds ahead of second place finisher Clayton Robert, who clocked 1:19.89.
Schilperoort took the breaststroke in 1:04.16 ahead of Robert's 1:10.82 second place finish. In the backstroke, Schilperoort beat out Othello's Tony Ramirez (1:16.11), finishing in under a minute (53.26).
Schilperoort clocked 47.77 in the freestyle and an impressive 4:38.17 in the individual medley.
Bailey Hazzard took top honors in the 50-meter girls breaststroke with a time of 56.47. Teammate Kameran Rodriguez clocked in at 58.69.
12&U
Jolissa Mendoza clocked in at 38.38 in the butterfly ahead of fellow Shark Ashlee Maldonado (39.67). Mendoza also took first in the backstroke with a time of 44.46, again just ahead of Maldonado (46.57).
Maldonado turned the tables on Mendoza in the freestyle by taking first place by two hundredths of a second, 37.20 to Mendoza's time of 37.22. Maldonado also won the individual medley in 3:44.77.
In the breaststroke, Emily Banks earned a time of 51.97 to take first place honors just ahead of Chloe Messmore (52.29).
14&U
The Sharks dominated, with Katelyn Banks and Fox Rodriguez leading their team.
Banks took first place honors in four girls events: butterfly (36.03), breaststroke (44.59), freestyle (32.91) and individual medley (3:20.67).
Rodriguez didn't fare quite as well, earning first place honors in the boys butterfly (36.42), breaststroke (42.37) and individual medley (3:21.70). He also took second to the Barracudas' Ethan Johnston (38.49) in the backstroke, clocking in at 42.84. Rodriguez also took home third place honors in freestyle, clocking in at 35.42, as teammate Adrian Heffron won the event with a time of 32.35 and Johnston clocked in second at 33.76.
16&U
The girls events were a contest between Othello's Tatum Sparks and Sunnyside's Payton Sample, with Sparks winning the majority of the races.
In the butterfly, Sparks clocked 35.05 to Sample's 36.68. The breaststroke had a similar result with Sparks finishing in 44.20 and Sample in 47.71. The backstroke was the exception as Sample earned first place honors, clocking in with a time of 42.59 to Sparks' finish of 43.70.
The two finished within half a second of each other in the freestyle, with Sparks touching in 33.13 and Sample just behind her at 33.53. They finished one-two again in the individual medley, again with the narrowest of margins. Sparks clocked 3:22.13 to Sample's 3:22.59.
Alex Perez of Sunnyside dominated the boys races, winning four of the five. He clocked 33.54 in the butterfly, 40.26 in breaststroke, 29.43 in freestyle and 3:07.72 in the individual medley. Teammate Christopher Martin kept Perez from the sweep by winning the backstroke in 39.67, less than half a second ahead of Perez (40.09).
18&U
With little competition, Sunnyside's Charley Beth Rollinger took four events: butterfly (48.12), breaststroke (54.19), backstroke (48.04) and freestyle (41.45).
On the boys side, Cristian Vargas of Sunnyside clocked 30.97 in the butterfly ahead of teammate Giovanni Rodriguez (35.45). Vargas also won the breaststroke in 37.25. He beat out Rodriguez again in the backstroke, clocking at 35.02. Rodriguez took first place honors in the freestyle with a time of 30.50.
200M Medley Relay
Girls 9-10
1. Othello 4:02.72 (Taylor Taff, Molly Jensen, Shaya Parrish, Alexis Simmons.)
2. Sunnyside 4:37.98 (Sydney Banks, Abigail Albrecht, Lala Campos, Aysiah Garza.
Boys 9-10
1. Sunnyside 5:00.03 (Reid Weaver, Clayton Robert, Clay Schilperoort, Levi Newhouse.)
Girls 11-12
1. Sunnyside 2:57.51 (Jolissa Mendoza, Ashlee Maldonado, Kylah Bunch, Esmi Cerda.)
Boys 11-12
1. Othello 3:10.69 (Sammy Azevedo, Kolton Dockins, Hunter Sparks, Dusty Carlson)
2. Sunnyside 3:27.68 (Carlo Rodriguez, Johnny Heffron, Parker Van de Graaf, Anthony Sanchez.)
Girls 13-14
1. Othello 3:08.96 (Carly Taff, Meghan Ramon, Nicole Douglas, Joey Taff.
Boys 13-14
1. Sunnyside 3.18.72 (Andrew Diddens, Taran Perez, Fox Rodriguez, Adrian Heffron)
Girls 15-18
1. Sunnyside 3:06.43 (Charley Beth Rollinger, Madi Marquez, Payton Sample, Rachel Perales.)
Boys 15-18
1. Sunnyside 2:24.27 (Christopher Martin, Giovanni Rodrigez, Cristian Vargas, Alex Perez.)
2. Othello 3:01.74 (Chase Johnston, Tanner Sparks, Ethan Johnson, Michael Lebacken.)
50M Butterfly
Girls 8U
1. Elaina Parrish (O) 1:15.76
Boys 8U
1. Brent Maldonado (S) 1:23.50, 2. Myles Newhouse (S) 1:28.43, 3. Levi Campos (S) 1:29.71, 4. Benjamin Anderson (S) 1:32.30
Girls 9-10
1. Shaya Parrish (O) 56.10, 2. Isabella Pruneda (O) 1:00.04, 3. Molly Jensen (O) 1:00.39, 4. Bailey Hazzard (S) 1:03.77
Boys 9-10
1. Clay Schilperoort (S) 1:02.69, 2. Clayton Robert (S) 1:19.89, 3. Levi Newhouse (S) 1:25.13, 4. Andrew Velazquez (O) 1:25.47
Girls 11-12
1. Jolissa Mendoza (S) 38.38, 2. Ashlee Maldonado (S) 39.67, 3. Joey Taff (O) 41.95, 4. Emily Banks (S) 47.28
Boys 11-12
1. Hunter Sparks (O) 40.61, 2. Carlo Rodriguez (S) 45.82, 3. Dusty W. Carlson (O) 54.53, 4. Parker Van de Graaf (S) 55.58
Girls 13-14
1. Katelyn Banks (S) 36.03, 2. Aydan Harrington (S) 36.17, 3. Lindsay Schilperoort (S) 40.53, 4. Meghan Ramon (O) 48.43
Boys 13-14
1. Fox Rodriguez (S) 36.42, 2. Ethan Johnston (O) 42.59, 3. Adrian Heffron (S) 45.31, 4. Miguel Valencia (O) 50.35
Girls 15-16
1. Tatum Sparks (O) 35.05, 2. Payton Sample (S) 36.68, 3. Madi Marquez (S) 44.03, 4. Katie Hutchins (S) 1:33.37
Boys 15-16
1. Alex Perez (S) 33.34, 2. Tanner Sparks (O) 39.54, 3. Nate Scheenstra (S) 40.85, 4. Christopher Martin (S) 41.67
Girls 17-18
1. Charley Beth Rollinger (S) 48.12
Boys 17-18
1. Cristian Vargas (S) 30.97, 2. Giovanni Rodriguez (S) 35.45
50M Breaststroke
Girls 8U
1. Elaina Parrish (O) 1:27, 2. Alex Rodriguez (O) 1:28.35
Boys 8U
1. Logan Rodriquez (S) 1:18.16, 2. Aiden Thien (O) 1:22.24, 3. Gage Newhouse (S) 3:28.56
Girls 9-10
1. Bailey Hazzard (S) 56.47, 2. Kameran Rodriguez (S) 58.69, 3. Isabella Pruneda (O) 1:01.09, 4. Lala Campos (S) 1:01.89
Boys 9-10
1. Clay Schilperoort (S) 1:04.16, 2. Clayton Robert (S) 1:10.82, 3. Levi Newhouse (S) 1:18.37, 4. Erick Vergara (S) 1:19.75
Girls 11-12
1. Emily Banks (S) 51.97, 2. Chloe Messmore (S) 52.29, 3. Esmi Cerda (S) 52.67, 4. Jolissa Mendoza (S) 53.18
Boys 11-12
1. Hunter Sparks (O) 49.54, 2. Sammy Azevedo (O) 52.39, 3. Jace Ziegler (S) 53.13, 4. Carlo Rodriguez (S) 57.66
Girls 13-14
1. Katelyn Banks (S) 44.59, 2. Kalie Bestebreur (S) 44.77, 3. Aydan Harrington (S) 45.74, 4. Carly Taff (O) 47.77
Boys 13-14
1. Fox Rodriguez (S) 42.37, 2. Ethan Johnston (O) 46.29, 3. Adrian Heffron (S) 46.50, 4. Miguel Valencia (O) 58.51
Girls 15-16
1. Tatum Sparks (O) 44.20, 2. Payton Sample (S) 47.71, 3. Madi Marquez (S) 49.90, 4. Rachel Perales (S) 1:16.17
Boys 15-16
1. Alex Perez (S) 40.26, 2. Michael Lebacken (O) 46.43, 3.Tanner Sparks (O) 49.03, 4. Christopher Martin (S) 52.88
Girls 17-18
1. Charley Beth Rollinger (S) 54.19
Boys 17-18
1. Cristian Vargas (S) 37.25
50M Backstroke
Girls 8U
1. Elaina Parrish (O) 1:10.27, 2. Elissa Hill (S) 1:15.16, 3. Tayler Bonzi (S) 1:15.35, 4. Daniella Duran (S) 1:18.19
Boys 8U
1. Logan Rodriquez (S) 1:06.57, 2. Cesar Vargas (S) 1:12.99, 3. Aiden Thien (O) 1:25.26, 4. Myles Newhouse (S) 1:30.47
Girls 9-10
1. Shaya Parrish (O) 54.14, 2. Molly Jensen (O) 1:00.48, 3. Arizona Rodriguez (S) 1:03.20, 4. Lala Campos (S) 1:03.45
Boys 9-10
1. Clay Schilperoort (S) 53.26, 2. Tony Ramirez (O) 1:16.11, 3. Clayton Robert (S) 1:20.22, 4. Jaden Siller (S) 1:20.43
Girls 11-12
1. Jolissa Mendoza (S) 44.46, 2. Ashlee Maldonado (S) 46.57, 3. Joey Taff (O) 48.33, 4. Kylah Bunch (S) 49.35
Boys 11-12
1. Dusty Carlson (O) 48.13, 2. Parker Van de Graaf (S) 49.07, 3. Sammy Azevedo (O) 49.76, 4. Hunter Sparks (O) 51.20
Girls 13-14
1. Aydan Harrington (S) 41.00, 2. Lindsay Schilperoort (S) 41.28, 3. Kalie Bestebreur (S) 41.63, 4. Carly Taff (O) 42.57
Boys 13-14
1. Ethan Johnson (O) 38.49, 2. Fox Rodriguez (S) 42.84, 3. Adrian Heffron (S) 43.97, 4. Nathan Wall (O) 53.73
Girls 15-16
1. Payton Sample (S) 42.59, 2. Tatum Sparks (O) 43.70, 3. Madi Marquez (S) 44.00, 4. Rachel Perales (S) 1:13.87
Boys 15-16
1. Christopher Martin (S) 39.67, 2. Alex Perez (S) 40.09, 3. Michael Lebacken (O) 42.76, 4. Nate Scheenstra (S) 47.05
Girls 17-18
1. Charley Beth Rollinger (S) 48.04
Boys 17-18
1. Cristian Vargas (S) 35.02, 2. Giovanni Rodriguez (S) 43.45
50M Freestyle
Girls 8U
1. Elaina Parrish (O) 1:05.83, 2. Elissa Hill (S) 1:09.65, 3. Daniella Duran (S) 1:13.03, 4. Tayler Bonzi (S) 1:31.62
Boys 8U
1. Logan Rodriquez (S) 54.95, 2. Myles Newhouse (S) 58.84, 3. Aiden Thien (O) 1:10.90, 4. Cesar Vargas (S) 1:14.96
Girls 9-10
1. Shaya Parrish (O) 43.22, 2. Molly Jensen (O) 46.88, 3. Isabella Pruneda (O) 48.55, 4. Ryan Bonzi (S) 51.99
Boys 9-10
1. Clay Schilperoort (S) 47.77, 2. Jaden Siller (S) 59.63, 3. Clayton Robert (S) 1:00.14, 4. Tony Ramirez (O) 1:06.97
Girls 11-12
1. Ashlee Maldonado (S) 37.20, 2. Jolissa Mendoza (S) 37.22, 3. Esmi Cerda (S) 37.42, 4. Emily Banks (S) 39.33
Boys 11-12
1. Dusty Carlson (O) 38.17, 2. Parker Van de Graaf (S) 40.19, 2. Hunter Sparks (O) 40.19, 4. Carlo Rodriguez (S) 41.44
Girls 13-14
1. Katelyn Banks (S) 32.91, 2. Carly Taff (O) 34.35, 3. Kalie Bestebreur (S) 35.42, 4. Aydan Harrington (S) 35.68
Boys 13-14
1. Adrian Heffron (S) 32.35, 2. Ethan Johnston (O) 33.76, 3. Fox Rodriguez (S) 35.42, 4. Nathan Wall (O) 46.33
Girls 15-16
1. Tatum Sparks (O) 33.13, 2. Payton Sample (S) 33.53, 3. Madi Marquez (S) 37.81, 4. Katie Hutchins (S) 1:08.03
Boys 15-16
1. Alex Perez (S) 29.43, 2. Nate Scheenstra (S) 31.74, 3. Christopher Martin (S) 32.76, 4. Tanner Sparks (O) 35.56
Girls 17-18
1. Charley Beth Rollinger (S) 41.45
Boys 17-18
1. Giovanni Rodriguez (S) 30.50
200M Freestyle Relay
Girls 9-10
1. Sunnyside 3:30.77
Boys 9-10
1. Sunnyside 4:42.49 (Clayton Robert, Levi Newhouse, Reid Weaver, Clay Schilperoort)
Girls 11-12
1. Sunnyside 2:42.30 (Emily Banks, Ashlee Maldonado, Kylah Bunch, Jolissa Mendoza)
Boys 11-12
1. Othello 2:52.29 (Dusty Carlson, Kolton Dockins, Sammy Azevedo, Hunter Sparks)
Girls 13-14
1. Sunnyside 2:27.95 (Katelyn Banks, Kalie Bestebreur, Lindsay Schilperoort, Aydan Harrington)
Boys 13-14
1. Sunnyside 2:54.89 (Andrew Diddens, Adrian Heffron, Taran Perez, Fox Rodriguez)
Girls 15-18
1. Sunnyside 3:07.93 (Katie Hutchins, Madi Marquez, Charley Beth Rollinger, Payton Sample)
Boys 15-18
1. Sunnyside 2:15.67 (Alex Perez, Giovanni Rodriguez, Nate Scheenstra, Christopher Martin)
200M IM
Girls 9-10
1. Shaya Parrish (O) 4:37.59, 2. Isabella Pruneda (O) 4:50.29, 3. Kameran Rodriguez (S) 5:05.49
Boys 9-10
1. Clay Schilperoort (S) 4:38.17, 2. Claton Robert (S) 5:57.80
Girls 11-12
1. Ashlee Maldonado (S) 3:44.77, 2. Emily Banks (S) 3:54.17, 3. Joey Taff (O) 4:00.27, 4. Lia Anderson (S) 4:15.29
Boys 11-12
1. Hunter Sparks (O) 3:41.45, 2. Carlo Rodriguez (S) 4:00.48, 3. Sammy Azevedo (O) 4:03.13, 4. Dusty Carlson (O) 4:09.74
Girls 13-14
1. Katelyn Banks (S) 3:20.67, 2. Kalie Bestebreur (S) 3:30.53, 3. Ashley Davis (S) 3:57.33, 4. Meghan Ramon (O) 4:00.25
Boys 13-14
1. Fox Rodriguez (S) 3:21.70, 2. Ethan Johnston (O) 3:33.86, 3. Andrew Diddens (S) 4:35.13, 4. Nathan Wall (O) 4:39.59
Girls 15-16
1. Tatum Sparks (O) 3:22.14, 2. Payton Sample (S) 3:22.59, 3. Madi Marquez (S) 3:49.72
Boys 15-16
1. Alex Perez (S) 3:07.72, 2. Tanner Sparks (O) 3:41.23, 3. Christopher Martin (S) 3:45.03, 4. Nate Scheenstra (S) 3:50.99