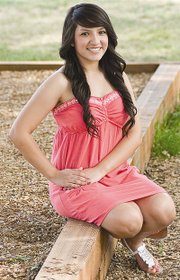 Elizabeth Bobadilla is one of 14 candidates vying for the 2012-13 Miss Sunnyside title.
She is interested in becoming Miss Sunnyside because she enjoys being involved in her community and views the Miss Sunnyside court as a group of young women with a unique platform for serving the community.
"I volunteer for several organizations already and want to set a good example for others to follow," said Bobadilla, who wants to work more closely with the Secondary Education for Migrant Youth staff in the Sunnyside schools.
She said she would like to organize fundraisers to benefit the organization, which is responsible for Sunnyside High School's Migrant Student Leadership Academic Scholarship.
"It's important that all students get the chance to attend college," said Bobadilla, who said the scholarship offered by the Secondary Education for Migrant Youth helps students who might otherwise have difficulty affording college tuition.
"Also, because of their mobility, migrant students don't get to connect to schools or build relationships," said the Miss Sunnyside candidate.
She said she would like to organize social gatherings for students served by the Secondary Education for Migrant Youth program.
"I would give them a chance to socialize with others and build relationships so that they feel comfortable around here," said Bobadilla.
As a Sunnyside High School student she said she is aware of how important it is for youngsters to feel as though they are part of the community in which they live. Developing relationships with others, she said, can help a student gain a sense of confidence and security, making them better students in school.
Bobadilla said serving as Miss Sunnyside is an important role in the community. The court serves as ambassadors for the community and she believes there are three locations in Sunnyside that she would like to show off if given the opportunity.
"If someone was to visit Sunnyside that had never been here before I would take them to the community center," she said.
Bobadilla said the community center is an important and central location for youth activities in the community. She said it is an example of the community showing it cares about family, youth and citizens living here.
"There are sports and games for the kids...and for adults or teens, they have Zumba," she said, outlining some of the activities provided at the community center.
Bobadilla said the recreational opportunities at the community center are important for promoting health, fitness and fun.
Another location she would highlight would be Sunnyside's Central Park, a location where community members have the opportunity to enjoy picnics and bond with one another.
"You can also go swimming during the summer or even take lessons and hang out with friends," said Bobadilla.
She said the park is also a great place for those who want to enjoy an evening walk or jogging.
The final location Bobadilla believes makes the community interesting is her high school.
"The high school is important to me because this is where I'm getting my education," she said.
Sunnyside High School, said Bobadilla, has made many positive changes and she believes it is an example of success. The new construction and improved graduation rates, she said, show what can be accomplished when people work together.
Bobadilla is the daughter of Maria and Miguel Bobadilla.
Her sponsors are Fragrance and Marita's Music.
The Miss Sunnyside Pageant will be staged on Saturday, Sept. 15, at the Sunnyside High School auditorium.