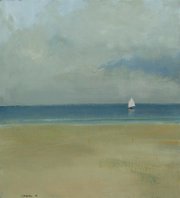 GOLDENDALE - The exhibition "The Subject Is Light: The Henry and Sharon Martin Collection of Contemporary Realist Paintings" will be on view at Maryhill Museum of Art now through Sept. 3.
Henry and Sharon Martin began collecting art about 30 years ago and built what is arguably the strongest collection of Hudson River School Luminist paintings in private hands today. In the mid-1990s the Martins expanded their focus to the living artists of Cape Cod, assembling an outstanding group of contemporary representational paintings by leading regional artists of the genre. The Martins' particular interest is artists who are skilled at depicting the changing effects of light, similar to that found in the best 19th-century works.
"When we've looked at the same picture 100 times, we want to look at it for the 101st time and still see something new," said Martin.
The 'Subject Is Light' exhibit includes 27 still lifes, landscapes and seascapes that possess this quality. The Martin duo will speak at Maryhill Museum of Art on Saturday, July 14, at 3 p.m. as part of a program titled "The Joy of Collecting." Also participating is one of the artists, Robert Douglas Hunter, who will speak about his own work in the exhibit and in the collection that is now on display. The event is free with museum admission.
Several special programs are also planned in connection with the exhibition, including "Painting the Landscape En Plein Air" with Eric Jacobsen. This event is slated for
Saturday, July 7, and Sunday, July 8, from 10 a.m. to 4 p.m. both days.
Jacobsen will lead two days of plein air painting on the museum's new Cannon Power Plaza. Supplies are not included. Pre-registration is required. For more information, call (509) 773-3733 or email education@maryhillmuseum.org.
Additional events slated for this summer at Maryhill Museum include
Reuse, Recycle and Repurpose. Sustainability and art
educators and art enthusiasts are invited to explore strategies for bringing enriching art experiences into the classroom in this week-long intensive filled event with daily workshops, lectures, the study of original art and hands-on art sessions.
Unique field trips, including studio visits and special events, make this an unforgettable art experience. This year participants will look at sustainability in art-exploring artists who reuse or recycle materials in their work, in addition to artists known for collage, assemblage and mixed-media.
For more information, including artists-in-residence, go to http://www.maryhillmuseum.org/Learn/Educators/artInstitute.html.
To register, call 509-773-3733 ext. 25, or email education@maryhillmuseum.org.