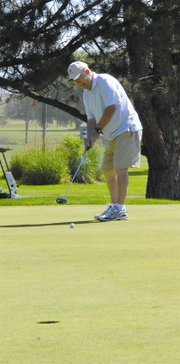 A first-place finish at the fifth stop on this year's Mid-Columbia Senior Golf Tour has the Sunnyside-based Black Rock Creek team firmly atop the 2012 standings.
It's the second straight tour competition Black Rock Creek has won.
The latest first-place finish came on Black Rock Creek's home course, last Thursday, June 14, where 113 golfers representing 10 different teams were showcasing their skills. The Lower Valley squad was never really seriously challenged on its home course, as the Black Rock Creek linksters finished 37 strokes better than the second-place finishing crew from the Pendleton Country Club.
Leading Black Rock Creek's charge was Gene McIntire. He fired a 6-over-par 78, which was seven strokes below his scoring average, giving him a handicap-aided round of 65 for low net of field honors.
Black Rock Creek also got a 9-over-par 81 from Phil Luther, as well as rounds of 84 and 86 from Doug Veach and Bob Barker, respectively.
On the net side for Black Rock Creek, the quartet of Troy Monholland, Eli Gonzalez, Wally Flores and Bernie Schutt shot better than their established handicaps. Monholland had a 66 (actual score minus handicap), with the other three golfers all posting handicap-aided 71's.
One of the gross skins paid out last Thursday, a $40 cash prize, went to Black Rock Creek's Mike Wagner for his birdie on the par-5, sixth hole.
Net skins, worth $25 apiece, were claimed by Black Rock Creek's Al Sandlin and Gonzalez on holes 16 and 12. Teammate Stan Davis won a KP prize, a $33 payout, for his tee shot on the par-3, 17th hole.
Black Rock Creek, seeking a sixth consecutive tour championship, sits atop the 2012 tour standings with 71 points, eight better than the Columbia Point team.
The next stop on this summer's tour will be on Tuesday, June 26, at the Moses Lake Country Club. Members of Black Rock Creek have until Friday, June 22, to sign up in the local pro shop if they plan on competing in Moses Lake.