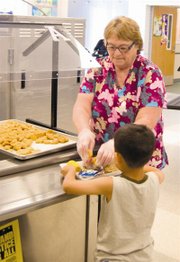 Sunnyside Pioneer Elementary School food service manager Accordia Horn, known to students and staff alike as "Coke," has been awarded the regional Louise Sublette Award of Excellence from the School Nutrition Association.
Horn is being honored because of her efforts to introduce new fruits and vegetables to students.
"It started when we got the salad bar," said Horn. "We gave the students a variety of choices and tried new healthy salads. The pasta salad is the favorite."
By keeping track of what students picked and what they actually ate, Horn was able to fine-tune the menu to appeal to the children while still giving them a lot of healthy food.
"I took the information I'd gathered this year and last year and sent it in (to the School Nutrition Association)," she said. "And I won state."
Horn received the state award earlier in the year and was recognized by the Sunnyside School Board at its March 29 meeting. On the strength of her original application, she has now been announced as one of six regional winners.
She is also eligible for the national award, which will be announced at a ceremony in July honoring the regional winners.
According to the School Nutrition Association, the award is given to a person who has "taken a special idea, developed the idea into a goal and used that goal to help the school's nutrition program grow."
The association hopes to share good ideas and spread them across the country to make school nutrition programs better.