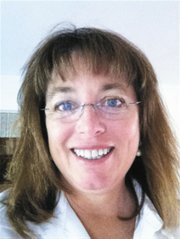 The former owner and CEO of the multi-million dollar Baby Jogger company based in Yakima, Mary Baechler, is taking aim at 4th District Congressman Doc Hastings.
Touting the endorsement of the Democratic parties in both Yakima and Benton counties, as well as support from Democrats statewide, Baechler has filed to unseat the long-time Republican lawmaker.
A West Valley resident now with three grown children, Baechler swung through Sunnyside late last week to state her campaign platform, and to convince local residents why they should cast their votes her way later this summer.
She admits to not having much experience in the political arena. "I'm not a real politician," Baechler said of her first-ever attempt at getting elected to public office.
But, the middle-aged woman believes she can make a difference serving Central Washington residents while occupying the U.S. Congressional seat now held by Hastings.
"It's a really good year to run as a Democrat," Baechler said, but quickly nods in agreement that Republicans can lay claim to that same statement.
What separates her from the pack?
Plain and simple, answers Baechler, "I love customer service."
Baechler maintains that if elected to office she will listen to her customers, in this case, the voters of the 4th Congressional District. She also plans on using the savvy she gained in private enterprise, "...the best principles of business while serving in this office, following those best practices to simplify government."
If elected, admittedly a long shot she confesses considering the 4th District has a strong Republican stranglehold, Baechler said her first priority will be to preserve Social Security and Medicare benefits. She said the Republicans' plan, as outlined in Wisconsin Congressman Paul Ryan's budget proposal, is to privatize Medicare, giving seniors vouchers for their medical treatment.
"Privatization would be a big windfall for the insurance companies," she said, as profit margins would be brought into play and the way those profits would be generated would be by offering seniors fewer, and less adequate, services.
"Ryan's plan, which Doc Hastings voted for, is a huge, radical social experiment on the elderly," Baechler said.
The second agenda item on her campaign platform is to work to end the recession, basically by creating jobs. Baechler said this can only happen with fair taxation, which must be directed at helping middle class and lower-income families.
"These middle class and lower-income Americans must have money in their pockets to spend in the stores in the towns they live in.
"It's a sales problem.
"Instead, people like Congressman Hastings are giving huge tax breaks to big companies, companies that are not spending money in local communities," said Baechler. "No, it's fair to say I don't believe in the trickle-down effect.
"Incentives should be on giving tax breaks to companies that create jobs," she added.
Baechler also is campaigning on working to preserve everyone's rights, especially those of women, to full health care benefits. In terms of meeting the needs of women with birth control, she said as a former midwife she knows all too well that can't be ignored.
"Women's rights to full health care shouldn't be a basic morality test," she said. "When it comes to the right thing for the American people, we need to always go back to the Constitution."
Baechler doesn't paint herself as a far-left liberal, but figures in the coming months she's bound to get knocked around a bit. "I've been told I would get beat up," she quipped.
What she may be referring to is her track record as the owner and CEO of what was once the internationally acclaimed Baby Jogger company. Founded in the mid-1980s, the firm, officially listed as Racing Strollers Inc., was highly profitable, with sales by some estimates reaching $12 million in 1999. Sales, according to published reports, plummeted to half that within a couple of years. Following charges that the design of a prototype stroller had been stolen by a company employee, it wasn't long after the firm, which throughout the 18 years Baechler operated it employed anywhere from 30 to 80 employees at any given time, filed for bankruptcy.
Asked why local voters should cast their ballots for her instead of her opponent, Baechler isn't shy in bringing up Hastings' record. She's quick to point out that she respects Hastings for the time he has given during his many years in public office, but stresses she resents the campaign donations he's accepted from the big companies, like Chevron, "...that have hurt the American people.
"We need to be looking at alternative energy sources, which would go hand-in-hand with a jobs program.
"I don't think we should be subsidizing big oil and gas companies...and if you look at the voting records, it's Doc Hastings and others in the Republican party who are giving Chevron and the likes big tax breaks," she said.