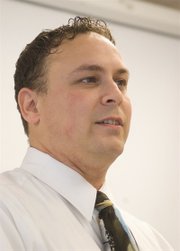 The Sunnyside Safeway is among the many corporate stores getting on the technology advanced train.
Store manager Nate Payne recently told Sunnyside Daybreak Rotarians of the company's new program, titled Just for U.
In the early 1990s Safeway began offering a personalized customer experience by offering a Safeway Club Card. The idea was to promote loyalty to the store and to offer a more personalized experience for Safeway customers.
The new program, Just for U, takes this idea a step further, says Payne.
The program is marketed to smartphone and tablet users, and helps the customer personalize their savings within the store.
"If you own a dog, Just for U will know, and give you special offers on pet products," Payne said.
The program is designed to help rid the garbage bin of unused coupons as well. Payne says a customer can download the store's weekly coupons right to their club card right from their phones, tablets or computers.
He says Safeway has come a long way, and the Just for U program is another way to help personalize the shopping experience for its customers.
"The customers just rave about it," Payne added.
In addition to the new program, local Safeway employees are canvassing the store to help customers set up their accounts.
"I have employees in red aprons walking around with iPads to help customers get set up," he said.
In addition, the store houses netbooks, says Payne, so customers can upload their desired coupons to their club cards right in the store.