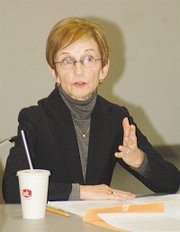 Selling girls for money or other valuables has increasingly become a commodity to area gang members.
When Mark Baysinger sat in a roundtable discussion with local gang members, he and Sunnyside's Promise became absolutely aware of local human sex trafficking.
The executive director of Sunnyside's Promise spoke to Yakima County Gang Commissioners at yesterday's meeting held at the Sunnyside Community Center.
Baysinger said after starting up the local non-profit agency, he wanted to get a clearer understanding of the local gang culture. He says he asked the local gangsters how they were initiated and questions of the like.
"But when I got to the girl in the group, she talked about being traded between gangs for sex," he said.
It was then Baysinger was extremely aware of the local human trafficking industry.
Baysinger says he then began talking with other local agencies such as Comprehensive Mental Health, Consejo Counseling, the school resource officers and the Lower Valley Crisis Center.
"They all said, 'yes, we know it's happening'," he added.
He says in the past few years local residents have become increasingly aware of the issue and gangs have become more lucrative after discovering the re-usable commodity.
Sunnyside's Promise primarily works with local youth in preventative measures, such as family activities and youth recreational programs. But through the preventative measures, this issue of local human sex trafficking has surfaced.
Sunrise Outreach Center Pastor Dave Hanson says he can comfortably confirm nearly 200 girls being trafficked in gangs from Yakima to the Tri-Cities.
That's a current number and Hanson said at yesterday's meeting that local and statewide agencies must begin working together to start eliminating this problem.
Yakima County Commissioner Kevin Bouchey says the state has become more and more aware of the issue, even adopting bills tackling specific areas of the larger issue.
The Honorable Bobbe Bridge, formerly a Washington State Supreme Court justice, also made an appearance at Tuesday's meeting to detail "Project Respect."
The four C's, as she described them, were collaboration, coordination, communication and clarity. Bridge says the four Cs are important in how local residents respond to commercially sexually exploited children.
Project Respect focuses on young men and women who are forced into prostitution, in many cases by local gangs. These children have long been treated as criminals, according to Bridge, instead of the victims they are.
Project Respect is currently in the process of developing a statewide model of a victim-centered response protocol along with training for first responders.
"We believe these victimized girls and boys need help and compassion, not further victimization of arrest, incarceration and return to the streets where they once again will be forced into commercial sex acts for the monetary gain of abusive pimps," she added.
The protocol for responding to these issues is being designed through the Center for Children and Youth Justice through a state grant.
In the first year of the grant, Bridge says the team is developing the protocol. The first year, she says, ends this coming November. In the second year, the team will work to make the protocol available to interested communities. Currently they are holding "mini summits" to help train and obtain feedback from state officials, agencies and community leaders.
Bridge says the issue at hand is 21st Century slavery.
She says the team is now gathering data through law enforcement and the juvenile system. Statewide, Bridge says the issue extends from trafficking through gangs, to girls on the street and in massage parlors.
For more information, visit the Center for Children and Youth Justice website at http://www.ccyj.org/initiatives/project-respect.