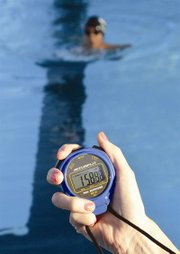 The Sharks had no answers for Aaron George and Daniel Whitmore last night, as the two Naches swimmers prevented Sunnyside from garnering a single victory in the boys 12&U and 16&U individual events.
Sunnyside's swim team came through in all the other age divisions, however, winning 49 of the remaining 62 races to send the Barracudas home with a 576-178 defeat.
Tuesday's overpowering victory boosted Sunnyside's record to 3-0 in Mid-Valley Swim League play. The Sharks will face their first real test of the summer this coming Thursday at Selah against the defending league champions.
George, Naches' standout at boys 12&U, was never really pressed last night, except in the 50-meter breaststroke race. The Barracuda swam the length of the Sunnyside pool in 51.19 seconds, but nipping on his heels were Sunnyside's Johnny Heffron and Jace Ziegler, who finished an eye-blinking second and third, respectively, behind with clockings of 51.56 and 51.88.
In the rest of the boys 12&U individual, 50-meter races, George had winning margins of 19.59, 19.96 and 9.37 seconds. In the 200-meter individual medley, George won by just over a minute.
At boys 16&U, Whitmore was clearly the best swimmer in the age grouping but he received some stern tests from his Sunnyside counterparts. The stiffest challenge came from Sunnyside's Alex Perez in the 200-meter IM. The Barracuda prevailed in the ironman event, but only by 1.28 seconds. Perez also gave Whitmore a fight in the 50-meter breast, as the Shark clocked the second-best time of 40.90 seconds, just a whisker behind Whitmore's winning time of 40.27 seconds.
One of the more remarkable feats of the evening came from Sunnyside's 12&U girls, who only allowed Naches a single team point, that coming via Maggie Simmons' fourth-place effort in the 50-meter backstroke. Coupled with the two relay victories in that age division, the 12&U girls outscored their Naches competition by a 74-1 margin.
Leading the way for Sunnyside's 12&U girls were Jolissa Mendoza with victories in the butterfly, backstroke and freestyle, Brielle Newhouse with the breaststroke win and Ashlee Maldonado finishing first in the individual medley.
NACHES 178 SUNNYSIDE 576
200-METER MEDLEY RELAY
Girls 10&U
1st-Sunnyside (L. Campos, K. Rodriguez, B. Hazzard, A. Anderson) 4:22.19
Boys 10&U
1st-Sunnyside (C. Schilperoort, L. Newhouse, C. Robert, J. Siller) 4:35.37
Girls 12&U
1st-Sunnyside (K. Bunch, E. Banks, J. Mendoza, A. Maldonado) 3:02.95
Boys 12&U
1st-Sunnyside (P. Van de Graaf, J. Heffron, C. Rodriguez, J. Ziegler) 3:34.43
Girls 14&U
1st-Sunnyside (H. Perez, K. Bestebreur, L. Schilperoort, A. Davis) 2:54.61
Boys 14&U
1st-Sunnyside (T. Perez, M. Marquez, F. Rodriguez, A. Heffron) 3:08.25
Girls 18&U
1st-Sunnyside (M. Marquez, M. Broersma, P. Sample, A. Newhouse) 2:38.91
Boys 18&U
1st-Sunnyside (C. Martin, N. Scheenstra, C. Vargas, A. Perez) 2:23.28
50-METER BUTTERFLY
Girls 8&U
1st-Lillian Campos (S) 1:48.58
Boys 8&U
1st-Myles Newhouse (S) 1:10.40, 2nd-Logan Rodriguez (S) 1:11.10, 3rd-Levi Campos (S) 2:00.30
Girls 10&U
1st-Bailey Hazzard (S) 1:01.01, 2nd-Arianna Sanchez (S) 1:10.01, 3rd-Lala Campos (S) 1:16.18, 4th-Aysiah Garza (S) 1:21.27
Boys 10&U
1st-Clay Schilperoort (S) 1:03.35, 2nd-Braden Stanton (N) 1:10.09, 3rd-Jaden Siller (S) 1:11.73, 4th-Clayton Robert (S) 1:13.06
Girls 12&U
1st-Jolissa Mendoza (S) 39.80, 2nd-Ashlee Maldonado (S) 40.03, 3rd-Emily Banks (S) 46.58, 4th-Lia Anderson (S) 50.10
Boys 12&U
1st-Aaron George (N) 33.81, 2nd-Carlo Rodriguez (N) 53.40, 3rd-Johnny Heffron (S) 1:02.79, 4th-Anthony Sanchez (S) 1:07.86
Girls 14&U
1st-Lindsay Schilperoort (S) 40.49, 2nd-Emilee Maldonado (S) 40.89, 3rd-Kaley Roberts (N) 41.07, 4th-Kalie Bestebreur (S) 42.67
Boys 14&U
1st-Fox Rodriguez (S) 35.63, 2nd-Zachery Zyskowski (N) 38.16, 3rd-Mathew Marquez (S) 44.21, 4th-Adrian Heffron (S) 48.45
Girls 16&U
1st-Payton Sample (S) 37.67, 2nd-Madi Marquez (S) 46.80, 3rd-Katie Hutchins (S) 1:29.32
Boys 16&U
1st-Daniel Whitmore (N) 30.17, 2nd-Alex Perez (S) 33.67, 3rd-Nate Scheenstra (S) 37.54, 4th-Christopher Martin (S) 37.83
Girls 18&U
1st-Marisa Broersma (S) 34.36, 2nd-Tara Van Corbach (S) 35.02, 3rd-Alexandra Newhouse (S) 37.87, 4th-Charley Beth Rollinger (S) 47.11
Boys 18&U
1st-Garrett Rice (N) 30.33, 2nd-Cristian Vargas (S) 31.10
50-METER BREASTSTROKE
Girls 8&U
1st-Daniella Duran (S) 1:32.13, 2nd-Krista Freeze (N) 1:37.48, 3rd-Elissa Hill (S) 1:51.77
Boys 8&U
1st-Logan Rodriguez (S) 1:21.23, 2nd-Cesar Vargas (S) 1:37.53, 3rd-Riley Pasicaran (S) 2:08.89
Girls 10&U
1st-Bailey Hazzard (S) 55.59, 2nd-Kameran Rodriguez (S) 55.88, 3rd-Lala Campos (S) 1:05.26, 4th-Aysiah Garza (S) 1:07.88
Boys 10&U
1st-Clay Schilperoort (S) 1:03.75, 2nd-Clayton Robert (S) 1:06.89, 3rd-Jonathon Lara (N) 1:16.43, 4th-Levi Newhouse (S) 1:17.20
Girls 12&U
1st-Brielle Newhouse (S) 51.99, 2nd-Emily Banks (S) 52.31, 3rd-Leah Sample (S) 52.95, 4th-Jolissa Mendoza (S) 53.58
Boys 12&U
1st-Aaron George (N) 51.19, 2nd-Johnny Heffron (S) 51.56, 3rd-Jace Ziegler (S) 51.88, 4th-Carlo Rodriguez (S) 58.09
Girls 14&U
1st-Kalie Bestebreur (S) 45.28, 2nd-Kaley Roberts (N) 46.88, 3rd-Lindsay Schilperoort (S) 50.49, 4th-Ashley Davis (S) 50.59
Boys 14&U
1st-Fox Rodriguez (S) 44.05, 2nd-Mathew Marquez (S) 48.73, 3rd-Adrian Heffron (S) 49.87, 4th-Ian Rice (N) 1:02.58
Girls 16&U
1st-Payton Sample (S) 48.99, 2nd-Madi Marquez (S) 50.25
Boys 16&U
1st-Daniel Whitmore (N) 40.27, 2nd-Alex Perez (S) 40.90, 3rd-Justin Stanton (N) 45.26, 4th-Nate Scheenstra (S) 50.61
Girls 18&U
1st-Marisa Broersma (S) 39.94, 2nd-Alexandra Newhouse (S) 44.57, 3rd-Tara Van Corbach (S) 45.31, 4th-Charley Beth Rollinger (S) 54.77
Boys 18&U
1st-Cristian Vargas (S) 37.23, 2nd-Garrett Rice (N) 37.51
50-METER BACKSTROKE
Girls 8&U
1st-Elissa Hill (S) 1:07.56, 2nd-Daniella Duran (S) 1:12.07, 3rd-Esther Simmons (N) 1:44.04, 4th-Lillian Campos (S) 1:45.26
Boys 8&U
1st-Logan Rodriguez (S) 1:02.71, 2nd-Myles Newhouse (S) 1:10.26, 3rd-Cesar Vargas (S) 1:14.11, 4th-Benjamin Anderson (S) 1:36.65
Girls 10&U
1st-Shaelynn Darwood (N) 1:04.95, 2nd-Bailey Hazzard (S) 1:05.63, 3rd-Aysiah Garza (S) 1:06.43, 4th-Lala Campos (S) 1:08.48
Boys 10&U
1st-Clay Schilperoort (S) 47.15, 2nd-Jonathon Lara (N) 1:07.27, 3rd-Braden Stanton (N) 1:09.38, 4th-Jaden Siller (S) 1:13.51
Girls 12&U
1st-Jolissa Mendoza (S) 43.51, 2nd-Ashlee Maldonado (S) 45.81, 3rd-Emily Banks (S) 46.10, 4th-Maggie Simmons (N) 48.29
Boys 12&U
1st-Aaron George (N) 38.47, 2nd-Carlo Rodriguez (S) 57.43, 3rd-Jacob Gomez (S) 1:04.69, 4th-Johnny Heffron (S) 1:05.07
Girls 14&U
1st-Kaley Roberts (N) 40.12, 2nd-Lindsay Schilperoort (S) 40.29, 3rd-Kalie Bestebreur (S) 42.86, 4th-Ashley Davis (S) 46.87
Boys 14&U
1st-Zachery Zyskowski (N) 38.37, 2nd-Fox Rodriguez (S) 43.67, 3rd-Adrian Heffron (S) 50.12, 4th-Mathew Marquez (S) 50.71
Girls 16&U
1st-Payton Sample (S) 42.59, 2nd-Madi Marquez (S) 45.01, 3rd-Katie Hutchins (S) 1:43.77
Boys 16&U
1st-Daniel Whitmore (N) 35.09, 2nd-Christopher Martin (S) 39.37, 3rd-Alex Perez (S) 39.63, 4th-Andrew Brewington (N) 42.40
Girls 18&U
1st-Marisa Broersma (S) 38.45, 2nd-Alexandra Newhouse (S) 44.11, 3rd-Charley Beth Rollinger (S) 46.59, 4th-Tara Van Corbach (S) 48.50
Boys 18&U
1st-Garrett Rice (N) 34.67
50-METER FREESTYLE
Girls 8&U
1st-Elissa Hill (S) 1:07.40, 2nd-Daniella Duran (S) 1:16.13, 3rd-Esther Simmons (N) 1:27.03, 4th-Kellynn Scott (N) 1:55.47
Boys 8&U
1st-Logan Rodriguez (S) 52.16, 2nd-Myles Newhouse (S) 58.00, 3rd-Brent Maldonado (S) 1:10.50, 4th-Cannon Hauver (S) 1:12.53
Girls 10&U
1st-Shelby DeVore (N) 49.49, 2nd-Arianna Sanchez (S) 51.59, 3rd-Lala Campos (S) 53.63, 4th-Bailey Hazzard (S) 54.57
Boys 10&U
1st-Clay Schilperoort (S) 45.03, 2nd-Jaden Siller (S) 54.27, 3rd-Clayton Robert (S) 56.55, 4th-Braden Stanton (N) 1:04.47
Girls 12&U
1st-Jolissa Mendoza (S) 36.22, 2nd-Ashlee Maldonado (S) 36.81, 3rd-Emily Banks (S) 38.15, 4th-Emily Broersma (S) 42.33
Boys 12&U
1st-Aaron George (N) 32.86, 2nd-Carlo Rodriguez (S) 42.23, 3rd-Johnny Heffron (S) 47.81, 4th-Anthony Sanchez (S) 51.53
Girls 14&U
1st-Kaley Roberts (N) 32.63, 2nd-Ashley Davis (S) 34.56, 3rd-Kalie Bestebreur (S) 36.57, 4th-Lindsay Schilperoort (S) 37.06
Boys 14&U
1st-Zachery Zyskowski (N) 33.08, 2nd-Adrian Heffron (S) 33.84, 3rd-Fox Rodriguez (S) 38.79, 4th-Mathew Marquez (S) 39.27
Girls 16&U
1st-Payton Sample (S) 33.63, 2nd-Madi Marquez (S) 35.15, 3rd-Katie Hutchins (S) 1:08.85
Boys 16&U
1st-Andrew Brewington (N) 29.53, 2nd-Daniel Whitmore (N) 29.57, 3rd-Alex Perez (S) 29.82, 4th-Christopher Martin (S) 32.73
Girls 18&U
1st-Marisa Broersma (S) 31.22, 2nd-Tara Van Corbach (S) 33.33, 3rd-Alexandra Newhouse (S) 36.34, 4th-Charley Beth Rollinger (S) 38.85
Boys 18&U
1st-Garrett Rice (N) 29.17
200-METER FREESTYLE RELAY
Girls 10&U
1st-Sunnyside (L. Campos, A. Sanchez, B. Hazzard, R. Bonzi) 3:55.07
Boys 10&U
1st-Sunnyside (J. Siller, C. Robert, L. Newhouse, C. Schilperoort) 3:55.86
Girls 12&U
1st-Sunnyside (J. Mendoza, E. Cerda, E. Banks, A. Maldonado) 2:48.01
Boys 12&U
1st-Sunnyside (C. Rodriguez, J. Heffron, J. Ziegler, P. Van de Graaf) 3:09.10
Girls 14&U
1st-Sunnyside (L. Schilperoort, A. Davis, H. Perez, K. Bestebreur) 2:38.13
Boys 14&U
1st-Sunnyside (F. Rodriguez, M. Marquez, T. Armstrong, A. Heffron) 2:45.53
Girls 18&U
1st-Sunnyside (P. Sample, M. Marquez, A. Newhouse, M. Broersma) 2:23.61
Boys 18&U
1st-Naches (names unavailable) 2:11.18
200-METER INDIVIDUAL MEDLEY
Girls 10&U
1st-Shelby DeVore (N) 4:35.53, 2nd-Kameran Rodriguez (S) 4:35.83, 3rd-Lala Campos (S) 5:13.14, 4th-Eve Rice (N) 7:04.10
Boys 10&U
1st-Clay Schilperoort (S) 4:22.63, 2nd-Clayton Robert (S) 5:59.17, 3rd-Levi Newhouse (S) 6:37.51
Girls 12&U
1st-Ashlee Maldonado (S) 3:42.77, 2nd-Emily Broersma (S) 4:13.06, 3rd-Madison Bowen (S) 4:24.46, 4th-Macy Clough (S) 4:45.27
Boys 12&U
1st-Aaron George (N) 3:15.27, 2nd-Carlo Rodriguez (S) 4:15.84, 3rd-Anthony Sanchez (S) 4:47.13
Girls 14&U
1st-Kaley Roberts (N) 3:20.66, 2nd-Emilee Maldonado (S) 4:03.96, 3rd-Hunter Perez (S) 4:12.49, 4th-Emily Paulinski (N) 4:40.80
Boys 14&U
1st-Fox Rodriguez (S) 3:17.51, 2nd-Mathew Marquez (S) 4:06.05
Boys 16&U
1st-Daniel Whitmore (N) 2:57.59, 2nd-Alex Perez (S) 2:58.87, 3rd-Nate Scheenstra (S) 3:28.03, 4th-Christpher Martin (S) 3:29.43