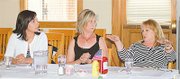 Yakima County Auditor Corky Mattingly proudly introduced herself as a third generation Grandview resident, happy to be back in the Lower Valley, as she spoke to the Sunnyview Republican Women's Club Tuesday afternoon at Snipes Mountain Restaurant.
Mattingly started her talk by saying she is proud of Washington state's election system and how it has been improved over the last decade. She mentioned how the 2000 federal election made everyone in elections look at how to improve the system, leading to the passing of the Help America Vote Act in 2002.
In Washington, the 2004 governor election and recounts resulted in further improvements to the system, some of them made possible because of funding from the Help America Vote Act.
Mattingly said a state voter registration database now allows counties to know when a voter has moved and registered in a new county. This means the registration in the former county can be cancelled. She also said an effort to create a six-state database is being made by Pew Research Center, which may eventually lead to a national voter database.
In Washington state, all voting is now done by mail. Mattingly said the lone holdout, Pierce County, is now using vote by mail. When asked why, Mattingly said it was too expensive to maintain both polls and vote by mail, and more and more people were requesting absentee ballots, indicating a preference for mail voting.
People who do not trust the mail can still drop off ballots at many locations, including the Worksource office in Sunnyside. A person can even fill out their ballot at one of the drop off locations, if they prefer.
Of special interest to club members was voter fraud. Mattingly said the percentage of voting fraud is extremely small. She was supported in that statement by fellow speakers Kathy Fisher, the county election manager and Yolanda Arellano, the county bilingual program coordinator. Both agreed with the auditor that voter fraud is almost non-existent in the county.
Club members asked about voter registration, focusing on what sort of identity is required and how the county prevents fraud. Fisher said that the elections office uses the driver's license of the voter to confirm identity.
"We have a signature-based system," Mattingly said. "The security of the system depends on signatures matching."
One woman noted that her signature has changed over the years and asked how the election department can still tell it's her's. Mattingly described how the people checking signatures are trained and how, if a signature is questionable it goes through further verification.
When asked why the county doesn't require a birth certificate or citizenship certificate to register to vote, Mattingly pointed out that the auditor's office doesn't make the rules, it just enforces them.
Club members asked how voter registration lists are screened. Fisher said the county gets lists of felons not allowed to vote and removes them. It also gets information when a person dies. However, no comprehensive list of citizens exists, so election officials have no way to screen voter rolls for citizenship.
Fisher said a voter's registration can be challenged if someone honestly believes that person is not a legal voter.
Asked if the elections office has any need for improvements, Fisher wistfully said, "We have dreams."
She said sorting precincts when votes come in takes the most manpower. Larger counties have machines to do the sorting, but the machines are physically too large and have more capacity than necessary for a medium-sized county like Yakima.
"We're cramped," she said. "Space is a concern."
Another club member asked how the order of candidates is determined on the ballot sheets. Fisher said in primary elections, the order is determined by lot. In general elections, the order is determined by who got the most votes in the primary. She said state and federal election ballot orders are determined at the state and federal levels.
"We use what they tell us to use," Fisher said.
In response to other questions, Fisher said five people work full-time in the elections office. She also recommended viewing the county elections website at http://yakimacounty.us/vote.