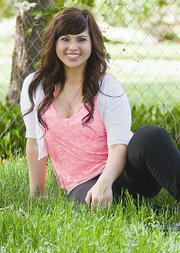 Amanda Cervantes is quite familiar with the Miss Sunnyside court since her older sister, Jaylyn, served as princess just two years ago.
The knowledge she obtained while observing her sister helped the younger Cervantes set goals for herself.
She wants to serve on the court, too. Cervantes is one of 13 candidates vying for the 2012-13 title, instead of 14, as one young lady removed herself from the competition recently.
"I want to help foster children in the community feel as though the community cares about them," said Cervantes, sharing why she wants to serve as Miss Sunnyside.
She said there are many foster children in the community who don't have much and she wants them to feel loved. Her plans include working with Service Alternatives to accomplish that.
"I want to create care packages for children in foster care," said Cervantes.
If selected to serve as Miss Sunnyside, she said she would organize a variety of donation drives to benefit foster children served by Service Alternatives.
"I want to collect food, clothing, games and other items the children may need or want," said Cervantes, noting members of the Miss Sunnyside court would not have any direct contact with the children because of confidentiality issues.
However, she said, they still need the support of the community. Cervantes said it is important for children to know they have the support of their community. That can help them develop a better sense of well-being and security when they might not otherwise feel as though they are important.
Feeling important to others, said Cervantes, helps children grow up with a greater self-esteem, too.
She wants to provide children with confidence and a sense of purpose.
Although Cervantes hasn't personally known anyone in the foster care system, she feels there is still a need to recognize those who might otherwise be anonymous in the community.
She said the issue is close to her heart because she loves children.
Cervantes has dreams of one day becoming a physical therapist so that she can work with children and adults, too.
"As an athlete, I've not always had the best luck with injuries," she said, stating her career goal stems from her own experiences in physical therapy.
She said she'd like to attend UCLA to obtain her education in physical therapy.
"Fitness has always been a big part of my life...I enjoy helping others and this would place me in a position of helping others to be the best they can possibly be after an injury," said the Miss Sunnyside candidate.
She said earning the title of Miss Sunnyside would also provide her opportunities to help others. Cervantes said she would be helping her community by sharing information about it with others. If someone visiting the community were to ask her for a tour of Sunnyside, Cervantes said there are three places of interest she would share with them.
She would take them to visit the Sunnyside Museum and the bronze statues so they could learn about Sunnyside's history.
Cervantes said she believes it is important to understand the community and believes the city's history is both important and interesting.
The bronze statues, she said, are a representation of historical figures from the area.
For a meal, Cervantes said she would escort the visitors to Mongolian Grill because the cuisine is not as common to the area as other food choices are.
"I really like the food there," she said.
Cervantes said she would also like to pamper visitors to Sunnyside with a stop at her sister's salon, Dulcenea, "...so they can experience the best hairdressers around.
"I'd like to give them a little treat to make sure they come back."
Cervantes is the daughter of Jose and Cynthia Cervantes.
For the Miss Sunnyside Pageant she is sponsored by Robinson Licensing Agency, Martin's School of Dance, Bell & Bridges CPAs and Black Rock Creek Golf Course.
The Miss Sunnyside Pageant will be staged on Saturday, Sept. 15, at the Sunnyside High School auditorium.