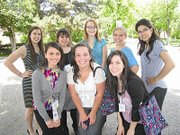 A product of Clear Channel, digital music provider iHeartRadio has been around a couple of years and in May provided an update for the iPad.
As a result, it doesn't have the listener base of Pandora but iHeartRadio does offer about 10 times more songs to choose from, according to Clear Channel.
Like Pandora, iHeartRadio is a free app available for home, mobile and desktop use.
In addition to iPad and iPhone, platforms for iHeartRadio include Android, Blackberry, Xbox, Google TV and Windows phone. It can also run on PC or Mac systems. You can find iHeartRadio at the app store
Since there are so many platforms that feature iHeartRadio, for the purposes of this review we'll focus on its recent iPad app. Besides music, the iHeartRadio app also runs sports, talk and even comedy stations.
I grew up on 70s radio, so one of the stations I tried out via iHeartRadio was Eagles Radio. It features commercial-free music by the Eagles, as well as other songs and bands the members of the Eagles enjoy.
Expecting to hear a lot of old soft-rock music, I wasn't sure how long I'd want to listen to the station before getting bored and looking elsewhere.
There are, sure enough, plenty of Eagles and Jackson Browne songs...but there is quite a variety - ranging from Kenny Chesney to Pearl Jam.
That variety, willingness to throw in some new or unexpected songs, has made me a fan of iHeartRadio.
The music can be played as a backdrop to whatever you're doing on the iPad.
But the app also features plenty of eye candy, such as a slide show of photos featuring some of the artists you're listening to.
I found that to be the case whether listening to Eagles Radio or even the classical music or jazz collections.
Another nice touch for the iPad app is free videos - and occasional live performances - artists provide exclusively for iHeartRadio.
The selection of music videos rotates periodically and some familiar names appear from time to time. George Thorogood and Aerosmith recently had videos posted, for example.
There are plenty of newer bands providing videos and thanks to that I stumbled upon Mumford & Sons. A British band with an appreciation for American roots music and instrumentation, Mumford & Sons reminds me of The Band's earnest spirit.
Apparently Mumford & Sons had a breakout album in the last year or so...but since I don't listen to much commercial radio I hadn't heard of them.
It's another reason why I'm finding iHeartRadio an enjoyable commercial-free alternative.
What really sealed the deal for me with this app is it also streams several commercial radio stations...including WLW from Cincinnati, Ohio.
A native of the Buckeye state, I cut my teeth listening to the Reds on WLW and it's terrific that I get to hear them again thanks to iHeartRadio.
My quibble, so far, with the iPad app is while there are a number of commercial options for Christian music, the only commercial-free Christian music station on the iPad app is a top 20 countdown.
That, of course, means the selection is limited to those 20 songs. Further, there are no slide shows or videos featuring Christian artists.
As with Pandora, though, users can create their own customized musical selections on iHeartRadio. So that's an option I can explore for more choice in commercial and promo-free Christian radio.
Bottom line: Though a relatively recent player in digital radio, iHeartRadio is music to these ears.