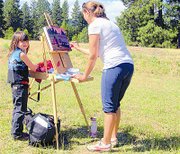 CLE ELUM - Artists from as far away as New York state are gathering once again - taking up their paintbrushes, cameras and words, and using those tools to capture the beautiful outdoor scenery of Kittitas County at the Fresh Air Artists Festival, July 14-20.
Festival organizers say they've hit on the right mix of artistic expressions for this fourth annual event. It invites painters, photographers and poets to use their talents creating artwork, as the French say, 'en plein air' or in the open or fresh air, the concept that gives the festival its name.
"This challenges artists to concentrate completely on the information in front of them," said Virginia Depicolzuane, president of High Country Artists, the group hosting the event. "By creating on location, their senses absorb it all, from sight to sound, from temperature to atmosphere, and then channel those feelings into their unique vision in paintings, photographs or with words."
Festival instructors include painters Michele Usibelli and Bonnie Griffith along with photographer Molly Morrow and writer Janine Brodine. They plan to help artists by offering demonstrations and workshops throughout the week.
The week of creating includes an opportunity for registered participants to enjoy a special day at the historic Roslyn Cemetery, a picnic lunch at the Stonehouse in Roslyn, a morning creating artwork at the Roslyn Riders Clubhouse and Arena, and an evening of poetry reading and dinner at Gunnar's Coffee Cabin in Cle Elum.
The art-filled week ends with a wine and hors d'oeuvres art show and reception at the Carpenter House Museum and Art Gallery, on Friday, July 20, 6 to 8 p.m.
The public is invited to come in and enjoy the wine and food, along with the artwork created throughout the week. Live music by guitarist Marc Brodine will appear at the event, where cash prizes totaling more than $1,000 are awarded to winning participants.
The Best of Show artwork will be published in the Northern Kittitas County Tribune following the event.
Registration for the festival is on now through June 30, at highcountryartists.com, as is information about instructors, the festival schedule and costs.