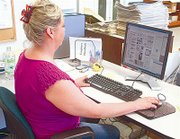 After working 12 years for Battelle in Richland, Elaine Schneider of Grandview is now doing advertising layout design for the Daily Sun News in Sunnyside.
While at Battelle, which is working with the clean-up at Hanford, Schneider was responsible for layout and design of print media for large reports that consisted mostly of text.
Now her work has her utilizing text, but also photos and graphics in designing ads.
Schneider, who started working at the newspaper this month, is enjoying the change.
"It provides an opportunity to be creative," she says. "I enjoy working with and learning new software."
Schneider, a 1988 Grandview High School grad, says a sharp photo or still art can do a lot to draw attention to an ad or display on the printed page.
At the same time, she says keeping an open mind is a key attribute to have for someone considering a successful career in page layout and design.
"You have to be flexible because art is very subjective," Schneider says.
Though she is self-taught in print layout and design, Schneider has a degree in business administration from Trend College.
Now Schneider is looking to expand her experience with layout design for the newspaper.
"I'm really enjoying it," she says of getting more involved in the marketing aspects of page design.
Schneider also appreciates the closer commute, driving round-trip each day between Grandview and Sunnyside instead of all the way to the Tri-Cities.
"I like my gas bill a lot better now," she smiles.