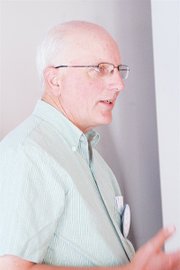 Bleyhl Farm Service Inc. got its start in 1934 when the Bleyhl brothers, Carl and Alex, needed a feed store for their turkey farm in Mabton.
The two began the feed store and hatchery, and eventually moved the location to Grandview in 1937.
Daybreak Rotarian Nick Friend detailed the company's history and current status at this past Wednesday morning's Sunnyside Rotary Club meeting.
In 1950 the brothers added fertilizer to the company's products for sale. Nearly 15 years later the two decided they wanted out of the business. The business became a co-op with 237 farmers buying into the company at $1 each.
"Back then that was a lot of money," Friend said.
Years later the co-op membership fee became $100, but the fee is refundable if the farmer decides to opt out of the membership.
Since then the co-op has added petroleum, agronomy, accounting and the store divisions to its corporation. The company also now has locations and divisions in Prosser, Grandview, Sunnyside, Toppenish and Zillah. They also have storage facilities and plants throughout the Yakima Valley, between Naches and Pasco, according to Friend, who is a controller for the company.
Friend noted the company sold its feed operations to Land O'Lakes in 1998.
He says members of the co-op hope the future of Bleyhl's will see a liquid plant in Grandview and an updated facility in Pasco.
Bleyhl's has seen $74 million in sales in the past year, and has $35 million in assets. The company also owns $21 million in equity, in which nearly $11 million goes to members. The company houses 135 employees and 35 of them are part time. Friend says the company pays out an annual payroll of $5 million.
Currently the company has 1,060 members, and 264 of those have been members since the fee was just $1.
Friend also says since the company's inception in 1934, Bleyhl's has exceeded $1 billion in sales.
"And all this is done in the little Bleyhl store near you," Friend said at the close of Wednesday's meeting.