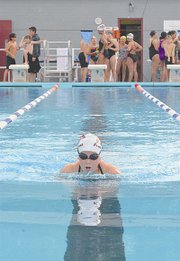 GRANDVIEW - Tit-for-tat, the Grandview and Toppenish summer swim clubs traded blows throughout the evening, but in the end the visiting Tarpons prevailed, 494-331.
Toppenish rode the stellar performances of Bethany Imperial, Alexis Medelez and Vanessa Chavez in the girls 18&U, 16&U and 8&U age divisions, respectively, to get by the Neptunes. The Toppenish trio garnered 12 of the 14 victories that were up for grabs in the individual races in those three age groupings.
The Tarpons, too, got two wins apiece in the individual events from Alec Bazaldua (boys 10&U), Josue Garcia (boys 12&U), Alex Davalos (boys 14&U) and Jeremy Klarich (boys 18&U).
The frosting on the cake for Toppenish was in outscoring the host Neptunes by a 60-20 margin in the relay competitions, as the Tarpons came away with wins in 12 of the 16 races.
Although Grandview succumbed in the hard fought meet, slipping to 0-4 in league play in the process, the Neptunes were able to hang their hats on numerous standout performances. The two individual efforts that caught most of the Grandview fans' attention were turned in by Taylor Ebbelaar and Brendon Lynch-McGhan.
Ebbelaar, at girls 14&U, swept to victory in all four of the 40-yard races in her age bracket. And, she did so in convincing fashion. Ebbelaar enjoyed winning margins of 2.23 seconds in the butterfly, 3.41 seconds in the breaststroke, 2.25 seconds in the backstroke and 1.16 seconds in the freestyle.
The lone blemish for Ebbelaar came in the 160-yard individual medley. She had to settle for runner-up honors to Toppenish's Katrina Johnson, who finished 24.42 seconds ahead of the Neptune.
Lynch-McGhan, too, was a four-time winner for Grandview last night. Competing in the boys 16&U events, his only setback came in the 40-yard backstroke, where Toppenish's Devante Maltos recorded a clocking of 30.89 seconds, just a third of a second quicker than the runner-up Lynch-McGhan.
Lynch-McGhan's largest margin of victory in the 40-yard races came in the breaststroke, when he finished 4.15 seconds ahead of second-place finishing Damieon Garza, his teammate. In the ironman 160-yard IM, Lynch-McGhan easily swept aside all comers, clocking a time of 2:26.84. The next closest swimmer to him was teammate Malichi Bejar Garcia with a clocking of 3:23.61.
Grandview also had several other swimmers step up big last night. Brianna Desmarais (girls 10&U) and Fabian Ruiz (boys 18&U) each notched three victories in the individual events. Micah Binfet, too, came through for the Neptunes with two wins in the boys 14&U age division.
TOPPENISH 494 GRANDVIEW 331
160-YARD MEDLEY RELAY
Girls 10&U
1st-Toppenish (J. Sutterlict, M. Koerner, A. Gonzales, E. Nishi) 2:24.00
Boys 10&U
1st-Toppenish (A. Bazaldua, R. Root, S. Olsen, A. Ward) 2:57.23
Girls 12&U
1st-Grandview (K. Cortez, C. Ruiz, K. Serl, M. Diener) 2:18.14
Boys 12&U
1st-Toppenish (K. Nishi, R. Gonzales, A. Regimbal, J. Garcia) 2:16.15
Girls 14&U
1st-Toppenish (K. Johnson, E. Stewart, S. Maltos, A. Regimbal) 2:03.32
Boys 14&U
1st-Toppenish (names unavailable) 1:44.30
Girls 18&U
1st-Toppenish (B. Imperial, V. Valdez, A. Medelez, K. Johnson) 1:51.82
Boys 18&U
1st-Toppenish (N. Koerner, J. Klarich, J. Supnet, D. Maltos) 1:44.91
40-YARD BUTTERFLY
Girls 8&U
1st-Vanessa Chavez (T) 50.52, 2nd-Natalia Sanchez (T) 1:13.87, 3rd-Diana Lopez (T) 1:21.75
Boys 8&U
1st-Blake Bazaldua (T) 1:00.52, 2nd-Kaden Ruggles (T) 1:03.40, 3rd-Ryan Schmahl (G) 1:10.40, 4th-Shaun Diener (G) 1:36.98
Girls 10&U
1st-Brianna Desmarais (G) 32.39, 2nd-Janealle Sutterlict (T) 39.44, 3rd-Kaitlyn Ott (G) 42.18, 4th-Alexis Gonzales (T) 45.53
Boys 10&U
1st-Alec Bazaldua (T) 40.38, 2nd-Nicolas Cortez (G) 44.86, 3rd-Aiden Ward (T) 45.09, 4th-Angel Morales (G) 45.59
Girls 12&U
1st-Mildred Lopez (T) 32.12, 2nd-Kaitlyn Kibbe (T) 33.91, 3rd-Lily Stewart (T) 35.82, 4th-Crystal Chavez (T) 37.76
Boys 12&U
1st-Rhyan Gonzales (T) 29.54, 2nd-Nathaniel Gutierrez (G) 31.14, 3rd-Josue Garcia (T) 32.47, 4th-Alex Regimbal (T) 33.61
Girls 14&U
1st-Taylor Ebbelaar (G) 28.32, 2nd-Samantha Bailes (G) 30.55, 3rd-Viannei Perez (G) 31.10, 4th-Ariana Regimbal (T) 31.57
Boys 14&U
1st-Micah Binfet (G) 25.13, 2nd-David Wacenske (G) 25.28, 3rd-Maurice Prieto (G) 27.78, 4th-Baeley Febus (G) 32.23
Girls 16&U
1st-Alexis Medelez (T) 22.57, 2nd-Victoria Valdez (T) 29.66, 3rd-Aaliyah Fonseca (G) 33.00, 4th-Joselina Wacenske (G) 33.15
Boys 16&U
1st-Brendon Lynch-McGhan (G) 25.73, 2nd-Devante Maltos (T) 26.46, 3rd-Damieon Garza (G) 28.30, 4th-Malichi Bejar Garcia (G) 39.48
Girls 18&U
1st-Bethany Imperial (T) 24.44, 2nd-Samanta Castaneda (G) 24.75, 3rd-Amanda Marquez (G) 28.50, 4th-Jessica Morales (G) 28.54
Boys 18&U
1st-Fabian Ruiz (G) 21.14, 2nd-Jeremy Klarich (T) 22.53, 3rd-Dominic Garza (G) 23.50, 4th-Eric Escobar (G) 27.66
40-YARD BREASTSTROKE
Girls 8&U
1st-Vanessa Chavez (T) 53.09, 2nd-Natalia Sanchez (T) 57.78
Boys 8&U
1st-Henry Olsen (T) 58.09, 2nd-Blake Bazaldua (T) 1:04.55, 3rd-Kaden Ruggles (T) 1:16.35, 4th-Paul Stewart (T) 1:21.78
Girls 10&U
1st-Alexis Gonzales (T) 35.98, 2nd-Janealle Sutterlict (T) 39.31, 3rd-Makayla Koerner (T) 40.03, 4th-Emmalee Nishi (T) 45.96
Boys 10&U
1st-Alec Bazaldua (T) 43.99, 2nd-Robby Root (T) 46.03, 3rd-Samuel Olsen (T) 48.47, 4th-Luke Regimbal (T) 49.01
Girls 12&U
1st-Leslie Lizola (T) 38.19, 2nd-Mildred Lopez (T) 41.57, 3rd-Frannie Ward (T) 42.29, 4th-Crystal Chavez (T) 44.19
Boys 12&U
1st-Josue Garcia (T) 34.47, 2nd-Rhyan Gonzales (T) 34.85, 3rd-Westly Lakins (G) 41.51, 4th-Alex Regimbal (T) 46.12
Girls 14&U
1st-Taylor Ebbelaar (G) 33.80, 2nd-Emma Stewart (T) 37.21, 3rd-Kassandra Martinez (G) 37.88, 4th-Samantha Bailes (G) 39.65
Boys 14&U
1st-Jordan Supnet (T) 25.45, 2nd-Jonathan Imperial (T) 27.53, 3rd-Joe Clark (T) 29.81, 4th-Sam Clark (T) 33.28
Girls 16&U
1st-Alondra Gonzalez (T) 29.895, 2nd-(tie) Joselina Wacenske (G) & Meghan Marquez (G) 35.70, 4th-Victoria Valdez (T) 38.54
Boys 16&U
1st-Brendon Lynch-McGhan (G) 29.14, 2nd-Damieon Garza (G) 33.29, 3rd-Devante Maltos (T) 34.44, 4th-Malichi Bejar Garcia (G) 44.59
Girls 18&U
1st-Bethany Imperial (T) 31.83, 2nd-Jessica Morales (G) 32.00, 3rd-Tawnya Francis (G) 33.20, 4th-Samanta Castaneda (G) 33.22
Boys 18&U
1st-Fabian Ruiz (G) 28.27, 2nd-Jeremy Klarich (T) 28.34, 3rd-Dominic Garza (G) 29.74, 4th-Eric Escobar (G) 36.17
40-YARD BACKSTROKE
Girls 8&U
1st-Jessamyn Hellner-Gomez (G) 49.63, 2nd-Vanessa Chavez (T) 49.99, 3rd-Diana Lopez (T) 55.14, 4th-Marley Patnode (G) 56.91
Boys 8&U
1st-Kaden Ruggles (T) 47.97, 2nd-Henry Olsen (T) 54.93, 3rd-Paul Stewart (T) 1:06.03, 4th-Miguel Flores (G) 1:13.43
Girls 10&U
1st-Makayla Koerner (T) 35.36, 2nd-Brianna Desmarais (G) 37.57, 3rd-Kaitlyn Ott (G) 43.27, 4th-Emmalee Nishi (T) 44.15
Boys 10&U
1st-Samuel Olsen (T) 42.88, 2nd-Angel Morales (G) 42.96, 3rd-Nicolas Cortez (G) 44.77, 4th-Tyler Hernandez (T) 50.35
Girls 12&U
1st-Savannah Maltos (T) 36.54, 2nd-Leslie Lizola (T) 37.78, 3rd-Lily Stewart (T) 38.34, 4th-Frannie Ward (T) 41.19
Boys 12&U
1st-Josue Garcia (T) 34.59, 2nd-Nathaniel Gutierrez (G) 35.41, 3rd-Kobe Nishi (T) 36.88, 4th-Nathanael Mayo (T) 41.08
Girls 14&U
1st-Taylor Ebbelaar (G) 33.19, 2nd-Jennifer Castaneda (G) 35.44, 3rd-Viannei Perez (G) 35.73, 4th-Elsa Martinez (G) 36.52
Boys 14&U
1st-Alex Davalos (T) 25.79, 2nd-Nate Koerner (T) 26.75, 3rd-Jonathan Imperial (T) 29.07, 4th-Micah Binfet (G) 30.11
Girls 16&U
1st-Alexis Medelez (T) 25.44, 2nd-Victoria Valdez (T) 34.72, 3rd-Aaliyah Fonseca (G) 34.79, 4th-Meghan Marquez (G) 35.37
Boys 16&U
1st-Devante Maltos (T) 30.89, 2nd-Brendon Lynch-McGhan (G) 31.24, 3rd-Damieon Garza (G) 37.53, 4th-Malichi Bejar Garcia (G) 54.52
Girls 18&U
1st-Bethany Imperial (T) 26.78, 2nd-Samanta Castaneda (G) 31.41, 3rd-Jessica Morales (G) 31.53, 4th-Amanda Marquez (G) 34.40
Boys 18&U
1st-Jeremy Klarich (T) 26.09, 2nd-Fabian Ruiz (G) 27.15, 3rd-Dominic Garza (G) 29.32, 4th-Eric Escobar (G) 32.49
40-YARD FREESTYLE
Girls 8&U
1st-Vanessa Chavez (T) 44.98, 2nd-Natalia Sanchez (T) 45.67, 3rd-Jessamyn Hellner-Gomez (G) 49.40, 4th-Marley Patnode (G) 55.73
Boys 8&U
1st-Shaun Diener (G) 58.41, 2nd-Miguel Flores (G) 1:01.49, 3rd-Joaquin Cortez (G) 1:02.32, 4th-Lucas Diener (G) 1:06.62
Girls 10&U
1st-Brianna Desmarais (G) 27.61, 2nd-Alexis Gonzales (T) 33.16, 3rd-Emmalee Nishi (T) 34.97, 4th-Kaitlyn Ott (G) 38.07
Boys 10&U
1st-Angel Morales (G) 32.24, 2nd-Nicolas Cortez (G) 32.26, 3rd-Jaxson Lakins (G) 48.31, 4th-Juanito Martinez (G) 52.08
Girls 12&U
1st-Elena Gonzalez (G) 30.74, 2nd-Lauren Binfet (G) 31.41, 3rd-Maxine Ocampo (G) 33.31, 4th-Felicia Pena (G) 34.16
Boys 12&U
1st-Nathaniel Gutierrez (G) 26.92, 2nd-Aaron Valdez (T) 30.59, 3rd-Dylan Allen (T) 31.87, 4th-Jonathan Flores (G) 35.28
Girls 14&U
1st-Taylor Ebbelaar (G) 25.30, 2nd-Kassandra Martinez (G) 26.46, 3rd-Samantha Bailes (G) 27.61, 4th-Viannei Perez (G) 27.91
Boys 14&U
1st-Alex Davalos (T) 21.42, 2nd-Joe Clark (T) 21.81, 3rd-Jordan Supnet (T) 21.95, 4th-Maurice Prieto (G) 22.08
Girls 16&U
1st-Alexis Medelez (T) 21.69, 2nd-Aaliyah Fonseca (G) 27.62, 3rd-Joselina Wacenske (G) 28.01, 4th-Taylor Colson (G) 28.08
Boys 16&U
1st-Brendon Lynch-McGhan (G) 22.88, 2nd-Devante Maltos (T) 23.38, 3rd-Damieon Garza (G) 24.21, 4th-Malichi Bejar Garcia (G) 28.67
Girls 18&U
1st-Bethany Imperial (T) 22.41, 2nd-Samanta Castaneda (G) 23.48, 3rd-Tawnya Francis (G) 26.12, 4th-Amanda Marquez (G) 26.62
Boys 18&U
1st-Fabian Ruiz (G) 18.16, 2nd-Jeremy Klarich (T) 20.56, 3rd-Dominic Garza (G) 22.21, 4th-Eric Escobar (G) 24.55
160-YARD FREESTYLE RELAY
Girls 10&U
1st-Toppenish (A. Gonzales, M. Koerner, J. Sutterlict, E. Nishi) 2:12.82
Boys 10&U
1st-Toppenish (names unavailable) 2:22.97
Girls 12&U
1st-Grandview (M. Ocampo, L. Binfet, E. Gonzalez, C. McGhan) 2:00.25
Boys 12&U
1st-Toppenish (J. Garcia, A. Regimbal, K. Nishi, N. Mayo) 2:00.72
Girls 14&U
1st-Toppenish (A. Regimbal, E. Stewart, K. Doonan, K. Johnson) 1:53.08
Boys 14&U
1st-Toppenish (A. Davalos, S. Clark, J. Clark, K. Ruggles) 1:32.50
Girls 18&U
1st-Toppenish (A. Medelez, V. Valdez, B. Imperial, K. Johnson) 1:34.85
Boys 18&U
1st-Grandview (D. Garza, E. Escobar, B. Lynch-McGhan, F. Ruiz) 1:29.44
160-YARD INDIVIDUAL MEDLEY
Girls 10&U
1st-Brianna Desmarais (G) 3:13.89, 2nd-Emmalee Nishi (T) 3:31.56, 3rd-Kaitlyn Ott (G) 3:46.29, 4th-Emma Febus (G) 4:03.08
Boys 10&U
1st-Nicolas Cortez (G) 3:12.20, 2nd-Angel Morales (G) 3:28.50, 3rd-Ulysses Vazquez (T) 3:49.84, 4th-Jaxson Lakins (G) 4:03.75
Girls 12&U
1st-Cassandra Ruiz (G) 2:54.89, 2nd-Lily Stewart (T) 2:56.48, 3rd-Kamryn Serl (G) 3:03.46, 4th-Nicole Gonzalez (T) 3:06.28
Boys 12&U
1st-Aaron Valdez (T) 3:13.07, 2nd-Nathanael Mayo (T) 3:22.36, 3rd-Dylan Allen (T) 3:28.06, 4th-Westly Lakins (G) 3:32.60
Girls 14&U
1st-Katrina Johnson (T) 2:18.72, 2nd-Taylor Ebbelaar (G) 2:43.14, 3rd-Sahara Maltos (T) 2:44.37, 4th-Samantha Bailes (G) 2:47.68
Boys 14&U
1st-Micah Binfet (G) 2:18.28, 2nd-Jonathan Imperial (T) 2:25.25, 3rd-Maurice Prieto (G) 2:30.08, 4th-Sam Clark (T) 2:30.16
Girls 16&U
1st-Alexis Medelez (T) 2:03.61, 2nd-Aaliyah Fonseca (G) 2:54.96
Boys 16&U
1st-Brendon Lynch-McGhan (G) 2:26.84, 2nd-Malichi Bejar Garcia (G) 3:23.61, 3rd-Devante Maltos (T) 3:31.56
Girls 18&U
1st-Bethany Imperial (T) 2:11.55, 2nd-Samanta Castaneda (G) 2:30.95, 3rd-Tawnya Francis (G) 2:40.95, 4th-Ashlyn Sehnert (G) 2:45.70
Boys 18&U
1st-Jeremy Klarich (T) 1:57.69, 2nd-Fabian Ruiz (G) 2:04.20, 3rd-Eric Escobar (G) 2:43.10