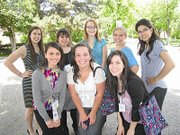 Each year a group of girls has the opportunity to attend Evergreen Girls State at Central Washington University.
This year eight students from Sunnyside High School had that opportunity.
Three of the eight interviewed - Tara Van Corbach, Dani Jo Kranz and Sarah Berumen - each said they learned a lot about government and how bills are passed while at the week-long program, sponsored by the American Legion Auxiliary.
"It's too bad we won't have any boys attending Boys State...they are really missing out," said Kranz.
Kranz said she was elected to serve as the mayor of Cantwell at Girls State.
"Each city had a problem and ours was our sewer system," she laughed, stating her responsibility was to figure out a way to remedy the problem.
"The system had to comply with state and federal regulations," Kranz said.
The girls said the delegates at Girls State are assigned to one of two parties, the federalists or the nationalists.
Berumen said, "We were split up evenly with four federalists and four nationalists."
She said each had an opportunity to take two tests that determined which offices they could run for.
Sunnyside's Meagan Meyers, said Berumen, was elected to serve as speaker of the House.
Berumen ran for the governor's seat, but lost the election; and Van Corbach lost an election for county treasurer.
Each of the girls, said Berumen, took a bar exam and a parliamentary procedures test.
"Those who passed the bar exam could run for a judicial seat and the parliamentary exam determined who qualified for lieutenant governor," she said.
Van Corbach said those who did not serve in an elected position were assigned to either the House or the Senate.
Members of either branch of representation were assigned to work with others to develop bills.
Kranz said the more controversial bills, such as one that mandated all girls over the age of 13 receive Gardasil vaccinations against the human papilloma virus (HPV), required several amendments. That meant lengthy debate processes.
Van Corbach said the mandate was controversial for many reasons, including religious objections.
"Some argued the government shouldn't require people get immunizations...objections were founded on the fact that HPV can't be transmitted by casual contact," she said.
Kranz said a "silly" bill that mandated that the Trix rabbit could have all the cereal and yogurt he wants was also up for debate.
"Another bill that passed mandated that we must wear pajamas to breakfast on Saturday, the last day of Girls State," she said.
A bill that failed, said Kranz, was a mandate prohibiting cheers at mealtime.
"I wrote a bill that mandated mac and cheese is served in school at least one time each week...it didn't make it past committee," she laughed.
The girls said there was an irony to that piece of legislature because Kranz's favorite meal happened to be on the lunch menu the next day.
Van Corbach said the committees, however, didn't seem effective.
"It didn't seem as though the committees were able to accomplish much," she said.
Berumen said she most enjoyed the patriotic spirit of Girls State.
"There was a lot of patriotism, and there were several speakers that taught us about the meaning of the (U.S.) flag, its history and what the colors represent," she said.
Kranz said she gained a lot of insight through the Girls State experience, but what she took away the most was the importance of citizenship.
Van Corbach said, "The most exciting part for me was hearing the pride expressed when everyone said the pledge of allegiance...most kind of mutter through it, but at Girls State they were loud and clear."
All three said they also enjoyed the sense of camaraderie at Girls State, having learned most girls their age have more in common than they thought.
"It was fun meeting people with different perspectives," said Berumen.
Kranz said, "It was easy to connect and identify with one another, though."
The trio said the experiences they had at Girls State will stay with them a long time.
"We even have new Facebook friends," said Van Corbach, stating the friendships they developed are going to last beyond the one week spent on the campus of Central Washington University.