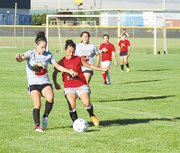 Fending off a second half hat trick by incoming freshman Alexis Aguilar, the Lady Grizzly alums held on for a 9-5 victory last Saturday in the SHS alumni soccer match.
In the sixth installment of an annual contest between former SHS soccer players and the current high school squad, the alumni stormed out to an 8-2 first half lead sparked by two goals each from Sonia Saucedo (2009) and Ruby Herrera (2011).
Saucedo scored the alums lone goal in the second half.
Also finding the back of the net for the alumni in the first half were Michelle Galvan (2010), Angela Munoz Sanchez (2003), Analisa Van Oostrum (2011) and Sylvia Villagrana (1997).
Scoring in the first half for the current SHS team were Jessica Galvan and Carla Osorio.
That set the stage for Aguilar's fireworks in the second half, when she accounted for all three of the SHS goals.
"Alexis is really quick," said Villagrana, the SHS varsity coach. "No matter what, she just keeps going. Hopefully we'll see how she can help us this fall."
Though normally the Lady Grizzlies varsity coach, Villagrana on Saturday actually had to play against her team as a member of the alumni squad.
While contributing to the alums' effort, Villagrana did find opportunities on the pitch to encourage her young players and give them advice on where they should be on the field.
"They looked pretty strong," Villagrana said of the current SHS squad. "I was pleased to see the girls out there."
It marked the second consecutive week the 2012-13 Lady Grizzlies showed progress. On Friday, June 15, SHS competed at a 5-on-5 soccer event at Hanford and finished third out of 18 teams.
It's a reminder that the ultimate winner on Saturday wasn't the alumni, but current and future Lady Grizzly soccer players.
That's because more than $400 was raised though the contest for the program's special projects fund. Villagrana said that includes things like new equipment and travel to tourneys.
The SHS girls soccer program will continue fundraising efforts this coming Saturday with a car wash from 8 a.m. to noon at Columbia Bank in Sunnyside.