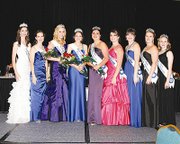 EVERETT - It's official...Sunnyside's Sabrina Mensonides, 2011-12 Yakima Valley Dairy Ambassador, will be heading to Dordt College in Sioux City, Iowa this coming fall.
Last Friday she was among six finalists to vie for the 2012-13 Washington State Dairy Ambassador title, but it is Abby Lohman of Skagit County who will be representing the Washington state dairy industry for the next year.
The coronation ceremony was held in the grand ballroom at the Holiday Inn in Everett.
Serving as Washington State Dairy Ambassador alternates will be Elizabeth Beck of Lewis County and Jennifer Callanan of King-Pierce County.
Mensonides is a recent graduate of Sunnyside Christian High School, and in a story published in the Daily Sun News' annual Dairy section said she would be attending college this coming fall if she wasn't selected to serve as the state dairy ambassador.
Lohman, Beck and Callanan were handed the 2012-13 titles, taking over for 2011-12 Washington State Dairy Ambassador Shannon Rodeffer and Alternate State Dairy Ambassadors Emily Neff and Kristen Wedam of Sunnyside.
The other candidates for the 2012-13 state title were Kristin Nelson, who last year served as Inland Northwest Dairy Ambassador, and Snohomish County's Melissa Reyling.
Lohman and her alternates will spend the next year traveling to schools, county fairs, Washington Interscholastic Activities Association events and many speaking engagements, helping residents of the state learn more about the dairy industry.
The trio will also speak before the Washington State legislature, promoting health and nutrition benefits of dairy products.
More like this story