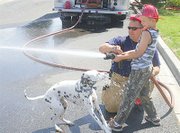 Wind and rains held off just long enough last Saturday for the Sunnyside fire and police departments to hold their public safety fair at the Law and Justice Center.
Held in conjunction with Fire District #5, the safety fair included hands-on demonstrations for kids and adults ranging from operating a hose at full blast on a simulated house fire to firing pellets that police use to disarm the bad guys or coax them out in the open.
"It's an opportunity for both departments to get together at the same time," said Fire Chief Aaron Markham, who noted the public typically encounters public safety officials during the midst of an emergency.
Saturday's second annual public safety fair, added Charlotte Hinderlider, a spokesperson for Sunnyside police, was a chance to be more transparent with the community.
She says it's especially an opportunity for children and young people to get to know public safety officials and learn a bit about their jobs.
The firsthand experience can be a treat for all ages, she added.
"I sprayed a fire hose for the first time today. I was so excited," Hinderlider said. "It was pretty cool."
Both departments also displayed heavy gear for visitors to inspect and try on, as well as heavy machinery.
Also making an appearance were Dottie Sue, the Sunnyside Fire mascot, and police dog Helios.
The event concluded with a free lunch for the public.
While the public safety fair was fun and a chance to get acquainted, the day offered some serious help, such as tips on identity theft prevention.
These types of getting-to-know public safety officials and their work also serve the purpose of educating potential volunteers, Hinderlider says.
"We're always looking for people to volunteer," she says. "You don't have to commit to a career in public safety, we just need committed volunteers."