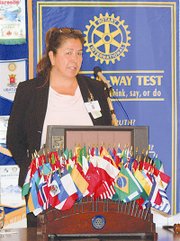 The 20th annual Sunnyside Community Hospital Foundation Golf Tournament, scheduled for Friday, Aug. 17, at Black Rock Creek Golf Course, will raise money for "swing beds" at the hospital this year, according to Patricia Combs, chair of the board for this year's tournament.
Combs, speaking at the Sunnyside Noon Rotary Club's Monday meeting, described the beds as both concept and equipment, with the emphasis on concept. The beds will allow patients to do critical rehabilitation in the hospital for cases that require regular attention from medical staff.
Generally the patients who will take advantage of the swing beds are ones who have had hip or knee replacements or other surgeries that require daily visits from the physician or regular follow up lab work. The swing beds are designed as a transition between surgery and rehabilitation.
While describing the swing beds, Combs joked that some people in her department thought they were literally beds hanging on chains, "with gadgets everywhere, literally swinging from side to side."
Money raised at the tournament will first go to the swing beds, then toward upgrades to the hospital's operating room, said Combs.
Combs said the tournament is currently looking for sponsors and teams. Individual registration is $100 per person.