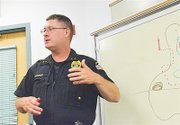 Citizens in the area surrounding the 800 block of West Edison Avenue can feel a little bit safer thanks to recent law enforcement efforts.
The past two Sundays police received reports of gunfire associated with the home at 808 West Edison Ave. On June 17, officers were unable to make any arrests, but the same could not be said this past Sunday morning, June 24.
That's according to Sunnyside Deputy Police Chief Phil Schenk, who yesterday told Sunnyside's public safety committee that officers made numerous arrests after investigating this past Sunday's shooting calls.
Police, he said, were able to follow a vehicle reportedly seen leaving the scene. A traffic stop was made and several individuals were taken into custody.
Schenck said several weapons were recovered, and two search warrants were served on the home. There, he said, more weapons, ammunition, stolen property and evidence of a criminal enterprise was discovered.
The deputy police chief said children belonging to individuals living in the home have been placed with child protective services and code enforcement officials have condemned the home for structural problems.
Schenck said, "The suspects are all in custody...there will be numerous court orders and warrants to follow as the investigation continues."
He said the home has been a nuisance to the citizens living in the neighborhood for some time. When the home was within the jurisdiction of Yakima County, there were more than 50 calls to law enforcement related to the property.
The Sunnyside Police Department records, said Schenck, show another 54 calls related to the residence in its old Spillman system.
"This year, there have been eight calls to the department," he said, stating the city annexed the property earlier this year.
As a result of more recent activity, officials have authorized an emergency closure of NW Crescent and West Edison avenues at the city limits.
"All traffic in the area will be redirected," said Schenck, stating the closures will be effective today (Tuesday).
He said "Jersey barriers" will be put in place, forcing traffic to flow around the vicinity of the home.
It is Schenck's goal to eliminate any crime related to the home at 808 West Edison by making it more difficult to travel through the area.
"Anyone needing to access points beyond the barriers need to choose a different route of travel," said Schenck.
He warned council members Nick Paulakis, Jason Raines and Craig Hicks, all members of the public safety committee, that they may be receiving phone calls from unhappy citizens.
Schenck said not all citizens will see the benefit of the road closures.
Paulakis said, "Usually those that complain are those who don't live in the neighborhood."
Raines said he is willing to accept the complaints from citizens. He said, "This is a matter of life and death...I will take a citizen's inconvenience over a shooting any time...it's a matter of public safety."
Schenck also told those at the public safety committee meeting the crime data collected recently is positive for the city.
He said he recently disclosed the data at Sunnyside's Noon Rotary meeting.
Schenck provided a brief overview of data compiled by Crime Analyst Courtney Percival.
He said there have been "huge decreases" in crime when using a seven-year average.
Burglaries are down 85.3 percent. Thefts, Schenck said, are down 185 percent over a seven-year average.
He said drug arrests have nearly doubled and "...part I crimes are down 13.6 percent when compared to 2011. They are down 45 percent when compared to the seven-year average."
Another significant increase has been in the number of DUI arrests. Schenck said DUIs are up 219 percent.
When asked by Raines how the police department is combating crimes in the city of Sunnyside, Schenck said there are increased patrols as a result of full staffing.
He said there are efforts to improve enforcement activity. With the help of Percival, he said, the department is looking at methods of increasing patrols in areas where there's a high volume of traffic offenses, as well as the areas where there are "hot spots" for other crimes.
"That process will take a lot of work," said Schenck.
Jennie McGhan/Daily Sun News
Sunnyside Deputy Police Chief Phil Schenck Monday explains efforts to improve patrols to areas that are "hot spots" for crime and traffic violations.
1 Jennie McGhan 6/26/2012 4:04 PM