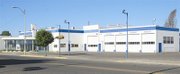 The former Denchel Ford dealership building will soon have a new tenant, bringing back more life to Sunnyside's downtown.
Commercial Tire in Sunnyside is outgrowing its current location on Yakima Valley Highway. As a result, the business is moving into the long vacant building at 301 Sixth St. in late July.
"We're looking forward to getting over there," said assistant manager Ian De Boer. He said the company has been outgrowing the current location.
"It's getting harder to keep miscellaneous tires in inventory," he said. "At the new location we'll have a few more bays and more room to serve semis and big rigs."
Karen Gauthier at Commercial Tire's corporate office agreed, saying, "We have experienced growth such that we need a larger space to better serve our customers."
The official move-in date is Monday, July 23, but De Boer said the company is looking at possibilities of tying its grand re-opening celebration into a local event. De Boer said no official plans have been made yet.
In addition to more room, De Boer said the new location will have more curb appeal.
"We won't be on the highway anymore," he said. "That's the tradeoff."
Along with more room to work on vehicles, the new location will have a larger waiting room.
"Right now we have a couple of chairs," said De Boer. "The new location will have a nice waiting room. We're thinking of getting a TV, maybe a popcorn machine, to give people something to do while they wait."