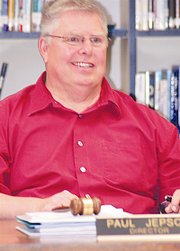 GRANDVIEW - During the 2011-12 school year the Grandview School District recorded the highest student enrollment level in the month of October, with 3,491 students.
That's consistent with the past three years, when October sees the most students enrolled.
However, for the past four years, from 2008 to 2012, the district has also recorded the lowest level of enrolled students in the month of May. This year's enrollment number totaled 3,376 students.
Board director Zulma Ochoa suggested the reason may be due to asparagus cutting, and that may be the only means of a family's income.
Other directors suggested different reasons for the drop in enrollment, but director Alfonso Contreras said, "We don't want to guess."
In addition, the data didn't show whether students were automatically dropped after being absent for more than 21 days, or if they dropped out of school.
Superintendent Kevin Chase asked the district's graduation specialist, Ben Gonzales, to look into the issue. Chase suggests calling parents and students, figuring how and why students are dropping out in larger numbers during the spring.
Gonzales agreed to check into the issue, and report back to the school board directors with the findings.