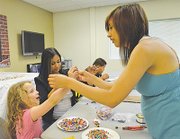 This summer's youth programs at the Sunnyside Community Center are underway.
Summer activities include cooking classes, arts and crafts, and fountain fun days.
Youngsters can participate in the programs offered throughout the summer months from 1 to 3:30 p.m. Monday through Friday for children 12 and under. The cost is $20 per youngster. Children 13 and older can participate in programs offered to that age group from 3:30 to 6 p.m. at the cost of $10 each.
For more information or to register, call 837-2205.