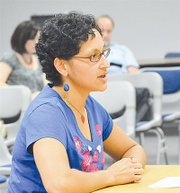 The Sunnyside School Board last night adopted a resolution supporting the DREAM Act by a split 3-2 vote.
School Board Director Sandra Linde was one of the two who did not vote in favor of the resolution, which will be used to bolster arguments to lawmakers when Ricardo Sanchez of the Latino/a Educational Achievement Project approaches the legislators.
Linde said she has a record of supporting students and helped work on legislation that supports undocumented students, but her issue with the DREAM Act as it is currently written is founded upon language that would allow out-of-state students to pay in-state college tuition at Washington colleges.
The DREAM Act would repeal section 505 of the Illegal Immigration Reform and Immigrant Responsibility Act of 1996, which currently discourages states from providing in-state tuition or other higher education benefits to undocumented students.
The state of Washington currently pays a penalty for permitting undocumented students attending public colleges or universities to pay the in-state tuition, according to Sunnyside Schools Superintendent Dr. Rick Cole.
The DREAM Act, if passed by legislators, would eliminate the penalty.
Linde was concerned students who are not residents of Washington state would take advantage of the ability to pay in-state tuition costs instead of out-of-state tuition.
"I don't want (U.S) citizens from other states to have the ability to pay in-state tuition," she said, stating she has a sister who lives out of state and would not want her sister's children to have such an advantage.
School Board Director Miguel Puente agreed that the one weakness in the proposed DREAM Act he could find was the clause that allowed students to pay in-state tuition.
However, he said he believes the remainder of the document is a step in the right direction toward supporting all students.
"I think we need to support our kids," said Puente, stating the school board received evidence earlier in the meeting that there were 35 graduating members of the class of 2012 that are undocumented and possibly won't have the same opportunities as those who are documented and/or citizens.
"The more opportunities we provide our students, the more inspired and motivated they will be," he said.
"The path to citizenship is very important to our students," said Puente.
The other school board member to vote against the resolution to support the DREAM Act was Michelle Perry, who said she believes the DREAM Act is a federal issue.
"How is what we decide today going to impact a federal decision," she asked.
Cole said Sanchez will provide lawmakers with a list of all the schools that support the DREAM Act, hoping the lawmakers will be swayed by the numbers.
"More support is more convincing," said Cole.
The vote soon followed and the resolution was approved by affirmative votes from Puente, Lorenzo Garza and Rocky Simmons.