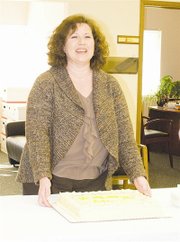 Today (Friday) is her last day as an accounting assistant for the city of Sunnyside.
"I'm moving on after finding a position somewhere else," said Jacquish.
She has seen seven city managers come and go, as well as six different finance directors for whom she worked directly under.
Jacquish said she has seen the accounting practices change over the years as technology advanced.
"Some software upgrades were better than others," she said.
At a farewell party held in her honor yesterday, City Manager Mark Gervasi said, "Evie is a really nice person. She is always upbeat, positive and focused. I've enjoyed working with you."
Pam Sandifer, who works in the city's planning department, said she will miss Jacquish.
Jacquish said she has met "a lot of great people," while in the city's employ.
"I've learned a lot...my supervisors provided many opportunities."
She said she will miss working with the staff at city hall. "I love them all."