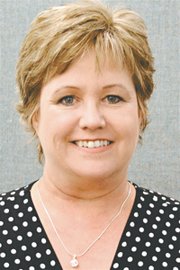 The straw that broke the camel's back for Theresa Hancock occurred during last Saturday's specially called Sunnyside City Council meeting.
Throwing caution to the wind, and relegating herself to whatever consequences may come her way, the city councilwoman broke ranks and publicly revealed the conversations that took place behind closed doors in executive session that day.
"I'm tired of all the back stabbing...the complaints and the unwarranted charges that are leveled against members of our city staff...behind closed doors without the staff there to defend themselves," said Hancock.
The two-term councilwoman this past Monday morning issued a statement that included notes she took during Saturday's executive session. The statement was forwarded to the city's legal firm and the city manager, as well as to the local newspaper. She also asked the city's attorneys to forward her statement to the city's insurance company.
Bottom line, said Hancock, she believes the executive session held behind closed doors last Saturday violates Washington state's Open Public Meetings Act. She particularly references RCW 42.30.110, section (f). Hancock's interpretation of that ruling is that if complaints or charges are to be brought against a city employee in executive session, the employee in question has the right to request that all charges and complaints be brought forward in a public hearing or a meeting that is open to the public.
"The employees discussed behind closed doors last Saturday were never given that option," she said.
The topic on the table that spurred the council to call for an executive session last Saturday was a discussion on whether or not to ask City Manager Mark Gervasi to extend the date he listed in his recent letter of resignation. Some on the council, Hancock, as well as Jim Restucci and Nick Paulakis, expressed an interest in Gervasi remaining at city hall after his resignation takes effect in early April. They indicated he might be more familiar with the city's current issues, serving as interim city manager until a permanent replacement can be found, than other candidates under consideration.
The executive session was called, said Hancock, because several of the councilmen...primarily Jason Raines, Don Vlieger and Mayor Mike Farmer...indicated they did not want to state in open public meeting their reasons for objecting to keeping Gervasi on as the interim city manager.
Once behind closed doors, Hancock continued, the finger pointing and complaints escalated beyond the scope of what originally took the council members into executive session.
"Ripping apart the job performances of other staff members...that's not what we were back there for," said the councilwoman, noting that at least two other employees, besides Gervasi, came under fire.
Hancock said she objected to the discussions four different times while behind closed doors. Following one of her objections, she said, Councilman Restucci stated the discussion needed to be kept in executive session because if it was done in open session, "...we could be sued."
This past Tuesday afternoon Restucci, when contacted at his place of work, did confirm that potential litigation was one of his concerns last Saturday.
Restucci said the reason for adjourning into executive session was very appropriate last Saturday, but admitted that the council strayed off course at times. He said the council didn't always stay on the topic at hand, that the content of the discussions, at select times, fell outside the parameters of the Open Public Meetings Act. He did indicate that when nudged, the council resumed appropriate discussions.
Councilman Vlieger, when contacted Tuesday afternoon, said the discussions in executive session may have fallen "...5 percent outside of the intended scope, but the mayor always got us right back on track.
"The discussion definitely came back on target," he said.
Vlieger said he wouldn't divulge what was discussed last Saturday behind closed doors because state law forbids it. He did offer up, though, that when discussing the fitness and qualifications of an employee, at times other people are brought into the mix. The employee who is the focus of discussion, he said, has working relationships with other staff members, and sometimes those interactions have a bearing on the topic at hand.
Vlieger pulled no punches in saying that Hancock, by releasing the notes she took in executive session, has violated state law, herself. The proper course of action for Hancock to have taken, "...if she believes the Open Public Meetings Act was violated by council," was to first go to the mayor with it, then to the city attorney, then to the county prosecutor, he explained.
Hancock, plain and simple, said it was time for the public to know about the back room dealings that have become commonplace in Sunnyside.
"Honestly, I'm at the point I don't care what kind of sanctions or penalties are levied against me," she said.
"We've had a good city manager in Mark Gervasi who truly cares about this community. We've got some very excellent staff members.
"I'm just very weary, very tired of all the attempts by some of our council members to micro-manage everything.
"We've lost some very good people who've worked for this city, because of all this back stabbing and head hunting that has gone on here for too long.
"I'd give up my seat right now, walk away, if I was guaranteed the entire council was going to be replaced. The people here in Sunnyside deserve much better than the elected body that is presently serving them," Hancock said.