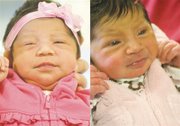 Newborns hardly ever arrive on their exact predicted due date.
Misha Faith Benavidez wasn't scheduled to arrive in the world until next week. But she was born this past Wednesday, Feb. 29, at 5:06 p.m., weighing in at 7 lbs., 5 ozs.
Her parents, Michael and Felisha Benavidez, say because Misha's birth date landed on Leap Day, it's testament to how special their daughter is.
Leap Day comes around every four years, and Misha's parents wanted their daughter to have a birthday she could celebrate every year.
"It was the day we were dreading," the newborn's mother said.
But nonetheless, the couple says they are just happy their child has arrived healthy.
"We feel so fortunate that everything turned out so well," she added.
The couple has decided to celebrate their daughter's birthday on Feb. 28, "so she doesn't get confused about the month she was born in," Benavidez said.
To add to her unique birthday, her name was chosen as a compilation of her parents' first names, Michael and Felisha.
"Since she's our first (baby) we wanted her name to have a piece of both of us," Mrs. Benavidez said.
Misha was one of three babies born on the rare Leap Day at Sunnyside Community Hospital.
First to arrive was Jared Jimenez at 3:24 a.m., weighing in at 6 lbs., 7 ozs. The only Leap Day baby boy was born to Evelina Vergara.
Irma Morfin also gave birth to Yahaira Rosas-Morfin, who was the last to arrive on Leap Day at 5:20 p.m. She weighed 6 lbs., 4 ozs.
Hospital Community Relations Director Tom Lathen says the birthing center at the Sunnyside medical facility sees an average of nearly 40 births each month.
"Three in one day is a pretty busy day here," he added.
Four years ago, Feb. 29, the local hospital only saw one birth.
Leap Day babies at the hospital received gift baskets to celebrate their rare birth dates.