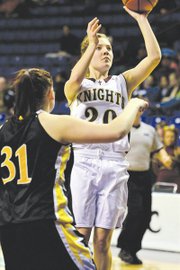 SPOKANE - Overcoming a third quarter drought in which it scored just two points, the Sunnyside Christian Lady Knights basketball team advanced to tonight's 1B State semifinals contest at the Spokane Arena.
Sunnyside Christian won its quarterfinal tilt against Cusick last night, Thursday, by a close score of 50-45 - despite leading by as much as 14 points.
"We were doing pretty well, and then the wheels fell off," said Sunnyside Christian Coach Al Smeenk.
After building a 33-21 lead at the half, the Lady Knights' momentum derailed in the third quarter when they were outscored 8-2.
"We just couldn't buy a hoop, we were too passive," said Smeenk.
Sunnyside Christian was hampered not only by the Panthers' chameleon-like defense - "They changed defenses every time we went down the court," Smeenk said - but by foul trouble that sent posts Marisa Broersma and Stormee Van Belle to the bench for most of the third quarter.
"We got in early foul trouble and several of us had to play out of position," Smeenk noted.
The Lady Knights regained momentum in the fourth stanza, as Broersma was able to avoid her fifth foul and pour in 10 of Sunnyside Christian's 15 points in the final frame.
"We were able to break their press a couple of times and get the ball down to Marisa," Smeenk said.
Despite the offensive fireworks in the fourth, Sunnyside Christian wasn't able to pull away because the Panthers knocked down four 3-point buckets in the quarter.
"We did not match up well on their 3-point shooters," said Smeenk. "We made some mistakes covering them."
Cusick's Chelsea Samuels drilled two of the Panthers' treys in the fourth and she hit four from long rage for the game.
Samuels tallied 14 points for the game, and Panther teammate Andrea Heinen scored 15 points to go with nine rebounds. "She's good. She looks to score every time she gets the ball," Smeenk said of Heinen, a key post player for Cusick.
Broersma sparked Sunnyside Christian with 18 points, followed by Kara Den Hoed with 11 points. Van Belle tallied six points for the Lady Knights and pulled down a game-high 10 rebounds.
Rounding out Sunnyside Christian's scoring were Katie Long with six points, Annie Brouwer with four, Alyssa Haak with three and Maddie Wavrin with two points.
The Lady Knights (24-1) now have the task of playing second-ranked Columbia Hunters tonight at 9 p.m.
"We're going to have to play a lot better tonight or we're not going to be victorious," Smeenk said of tonight's semifinal tilt against the Lions, who defeated Sunnyside Christian in the third-place game at last year's State tourney.
He added Columbia Hunters has four players who average 15 points a game.
"We have to attack the hoop, we've got to be the aggressor," Smeenk said.