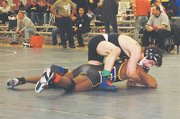 DES MOINES - Steven Romero was a two-time State wrestling champion at Sunnyside High School, and recently came within 20 seconds of winning a national community college title.
Romero, a 2009 SHS grad, attends Highline Community College in Des Moines and was the top-ranked wrestler in the nation this season among junior college grapplers in the 125-lb. weight class.
Third at the 2011 national wrestling tourney, Romero reached the NJCAA championship match last month during the tourney held at Rochester, Minn.
With just 20 seconds remaining, Romero was ahead 2-1 in the title match against Neosho County Community College's Jeff Vesta. That's when Vesta earned a reversal and two points to eke out the win for his Chanute, Kansas school.
Romero is humble about his accomplishments in wrestling at the national level and attributes part of his success to his experiences while at SHS.
"I knew I had to get good grades or I wouldn't be able to wrestle," Romero says. "Now in college I try to get good grades."
He says the regimen under SHS Coach George Paulus also helped.
"I was already physically in shape when I got to college," Romero said.
As for his future beyond community college, where Romero attends on a wrestling scholarship, the sophomore says he won't pursue wrestling at a four-year college.
"I want to continue my education, get my business degree from WSU," Romero says.
Though his collegiate wrestling career is complete, Romero said he will continue competing with Team Victory, a Lower Valley freestyle wrestling squad.
Romero said he started wrestling with that team during his high school years. "After high school practices I would continue to wrestle with Team Victory," he said. Romero added he'd like to also help coach the team.
He said he'll miss competitive wrestling in a school setting, whether high school or college. "I'll miss the practices," he said.
He also has a soft spot in his heart for his old high school team. Romero says he follows the Grizzly wrestling program, keeping tabs on their success.
"They're all right," he said. "They did pretty well this season."