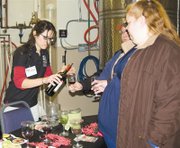 GRANDVIEW - Every year, between 12 and 15 students enter the winery program at YVCC, and each year for the last three years new students in the wine marketing class have put on a Teach, Tour and Taste event at the teaching winery in Grandview.
The free event gives the public an inside look at the winery and a chance to sample the variety of vintages the school produces.
With names like Textbook White Gewurztraminer and Graduate's Last Hyrah Syrah, the wines this past Wednesday received thumbs up from the tasters, even though some of the students cannot sample the product.
Juan Hernandez is one such student. At 18, he's too young to drink, but he has a strong desire to learn the ins and outs of wine-making.
In his first quarter, Hernandez plans to apprentice at a winery when he graduates and has an eye on starting his own winery someday. For now he's concentrating on getting through the two-year course.
"I got into the program because I know there will be jobs at the end," said Hernandez. "The wine business is booming."
Logan Desserault is more interested in gaining a set of skills that will help her move to the next level. Accustomed to working outdoors, she wanted to be able to tackle all aspects of agri-management.
"I want to be able to do it all," she said. "With the knowledge from this program I can do winemaking, viticulture or the business part of it."
The program isn't an easy ride, said Desserault.
"It's enjoyable, but it's lots of work," she said.
Melissa Rowan is a week away from completing the program, and was there on Wednesday to run the cash register in the tasting room. In her first year she helped put on the first Teach, Tour and Taste event. She remembers how it felt to be one of the students on the spot.
"I'm a lot more relaxed now," she said. "But I can feel their tension."
The event draws about 100 people each year, according to Carol Schneider, a faculty member at the school.
"The students put it on themselves," said Schneider. "All the design, what was included, it was all up to them."
Rowan agrees.
"The students make the decisions," she said. "If we say the students are in charge, they are in charge."