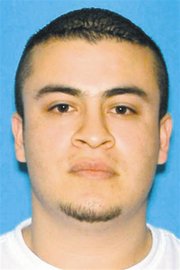 Sunnyside police are looking for Armando Cortez Lopez in conjunction with an attempted rape that occurred Sunday morning at approximately 7:30 a.m. in the area of South Sixth Street and Edison Avenue.
The victim, a 64-year-old female Sunnyside resident, was not injured in the attempt, say police. The attack occurred in an alley.
Cortez Lopez stands 5'8" and weighs 184 lbs, he has brown eyes and black hair and is a Yakima resident.
Anyone with information regarding his whereabouts should call 509-836-6200.