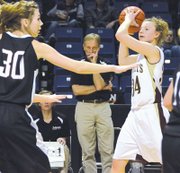 SPOKANE - The Sunnyside Christian Lady Knight hoop team claimed fifth place honors during the State 1B tourney at the Spokane Arena this past weekend.
After losing a semifinal heartbreaker to Columbia Hunters on Friday, the Lady Knights fell 61-50 on Saturday to Almira-Coulee-Hartline (ACH) on Saturday in the game for third/fifth place honors.
Sunnyside Christian fell behind by eight points on Friday in the 45-40 loss to the Lions. The Lady Knights had two opportunities in the final 20 seconds to tie the contest.
"We were so close. The looks were there and we just couldn't hit them," said Sunnyside Christian Coach Al Smeenk. "Had we won we would have played for the title.
Smeenk said his squad struggled from the field, canning just 27 percent of its shot attempts.
"Maybe we shot a little quicker, maybe it was due to nerves," Smeenk said of his team's troubles at finding the bottom of the net.
At the same time, Smeenk credited the play of Columbia Hunters, ranked second in the state heading into the tourney.
"They've got a couple of real good posts," he said. In particular, the Lions' Krista Colvin presented problems in the paint for Sunnyside Christian, as she knocked down a game-high 18 points and collected 10 rebounds while swatting away five shot attempts.
Guard Krista Colvin also sparked Columbia Hunters with 11 points.
Kara Den Hoed paced Sunnyside Christian, the only team's only scorer in double figures with 14 points to go with a game-high 11 rebounds.
"She played very well," Smeenk said of Den Hoed's double-double.
Marisa Broersma and Stormee Van Belle scored six points each for Sunnyside Christian, while climbing the ladder for seven and five rebounds, respectively.
The loss dropped the Lady Knights into the third/fifth place game on Saturday, a 61-50 loss to ACH. The Warriors, also a top-five ranked team this year, connected on 7-of-10 attempts from the 3-point line in the first half to open up a 37-21 lead at the break over Sunnyside Christian.
Smeenk and the Lady Knights changed defensive strategies in the second half, switching to a zone to better cover ACH's shooters.
"We had to try something different, we didn't know their guards could shoot so well," Smeenk said.
The switch worked, as ACH was held to just 2-of-9 shooting from 3-point land in the second half.
The Lady Knights were able to pull to within 11 points after three quarters, and got as close as seven points in the fourth quarter before the Warriors closed out the game.
The Warriors, who had four players in double figures, were led in scoring by Kodi Noggles' 17 points and seven rebounds.
Guard Madeline Isaak tallied 13 points for ACH to go with five rebounds.
"She's probably the best point guard we've faced all year," Smeenk said of Isaak. "Her twin brother plays on their boys team and he scored 44 points in the State championship game."
One of the Warriors' chief threats from 3-point land was guard Kelsey Streeter, who knocked down 4-of-6 attempts from behind the arc for 12 points. Allison Fox was the other ACH player in double figures with 11 points.
Den Hoed again sparked the Lady Knights, tallying a team-high 12 points.
Broersma added 11 points, while Van Belle scored eight points and collected a team-high six rebounds to go with two blocked shots.
Alyssa Haak chipped in seven points to go with two steals.
It was the second year in a row for Sunnyside Christian to end the season and the tourney with back-to-back losses.
"That's two years in a row and all the games were close," Smeenk said. "It just seems like we can't get that ball to drop, that break."
It may have been a disappointing end for Sunnyside Christian (24-3), but Smeenk is thankful for the hardware.
"We've got something to show for it," he said of the fifth-place trophy. "There have been years at State where we didn't get a trophy."
Smeenk also praised the contributions of seniors Haak, Katie Long, Maddie Wavrin and Broersma.
"They're the nucleus, the main thing is the example they set on and off the court," Smeenk said. "They're special ladies," he added. "I hate to see them go, but I know God has other exciting plans for them."