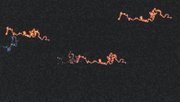 Last Thursday night at around 8:30 p.m. Sunnyside's Jose and Teresa Rodriguez noticed something strange in the air.
The couple looked out the windows of their home and spotted nearly 20 strange lights.
Mr. Rodriguez said he grabbed his binoculars while Mrs. Rodriguez picked up a camera.
The couple said what they saw appeared to be large fireballs.
"We thought they might be airplanes," said Mr. Rodriguez, stating the fiery orbs were moving quickly through the sky.
Mrs. Rodriguez said it appeared as though the balls flying through the sky were flying southeast over the freeway past the Grapevine Inn which sits atop the hill near where the couple lives.
"It was really, really weird," she said.
Mr. Rodriguez concurred, stating he looked through the binoculars and said the orbs appeared in the shape of fiery parachutes. "That's the best way to describe them."
The couple said the mysterious display lasted approximately five minutes.
An attempt to discover whether or not anyone else in the area reported seeing the display was made. Authorities with both the Yakima County Sheriff's Office and Sunnyside Police Department state there were no calls regarding the incident.