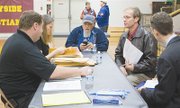 If the GOP faithful in Yakima County and Washington state have their way, it will be Mitt Romney trying to unseat the incumbent in this fall's Presidential election.
This past Saturday Washington state Republicans, including those in the Sunnyside, Grandview, Granger and Mabton precincts, gathered for the presidential GOP caucuses.
Anne Bardell was among those attending the caucuses at Sunnyside Christian Elementary School, which included all Lower Yakima Valley precincts.
Noting the extremely large turnout, Bardell said, "It was encouraging because it means people really want a say in the elections."
Bardell said there were representatives present for each of the four Republican presidential candidates. "People overwhelmingly supported each of the candidates, but Romney appeared to have the largest number of supporters," said Bardell.
Precinct Committee Officer Jason Raines, who's also a member of the Sunnyside City Council, oversaw the caucus in Sunnyside. He said the straw poll results are called into the county before they are certified. But, it is his job to count the numbers at the Sunnyside location.
Laurie Beltman, secretary of the polled caucus, said she helps oversee the tallies. Any of the voters present could have watched over the process, she noted.
Raines said many of those who attended the caucus registered for the event, which gave them the option to write down the name of the candidate they were most likely to support this fall.
During the event, voters were able to speak with the individuals representing the candidates.
The straw poll results for the local caucus were not available, but Washington Republicans made their voices heard, selecting Romney as the top presidential candidate by a count of 19,111 (37.65 percent). Ron Paul was runner-up with 24.81 percent of the straw poll numbers statewide, Rick Santorum was third with 23.81 percent of the votes cast. Newt Gingrich only drew 10.28 percent of the support from those attending the statewide caucuses.
In Yakima County, Romney was the favored candidate with 37 percent of the polled numbers. Santorum received the second highest number of votes (23.7 percent). Paul had 21.1 percent of Yakima County Republicans' support and Gingrich secured 12.8 percent approval.
Raines said he was pleased with Saturday's turnout in Sunnyside, believing it was higher than in past election years.
Romney, obviously, was pleased with results of the Washington caucuses.
"I'm heartened to have won the Washington caucuses, and I thank the voters for their support. Every day that passes with Barack Obama in the White House is a day in which America's recovery from the economic crisis is delayed," said Romney.
"Unemployment here in Washington (state) was recently as high as 10.2 percent. It's wonderful that it has declined to 8.3 percent. But that is still an unacceptable level, bringing hardship and suffering and sleepless nights to too many American homes. I believe in an America in which everyone seeking work can find it," he said.
Romney continued, "I'm in this race because I believe that America can be turned around, that we don't have to accept unemployment over 8 percent as a new normal. I don't believe we have to accept a national debt that is as large as our entire economy. I don't believe we have to accept taxes and regulations that cripple economic growth."
He said, "We don't have to accept a national health care scheme that will impose the will of Washington (D.C.) bureaucrats on every American, healthy or ill. And we don't have to accept a president who divides our country even as he misgoverns it."
Romney congratulated his fellow Republicans on a campaign well waged. He said they may differ from one another in background and experience. But he believes they are united in their love of this country, and in the belief that with proper leadership America can do much better.
"The voters of Washington (state) have sent a signal that they do not want a Washington (D.C.) insider in the White House. They want a conservative businessman who understands the private sector and knows how to get the federal government out of the way so that the economy can once again grow vigorously. With the support of Washington's voters, I look forward with optimism to the primaries and caucuses to come," said Romney.