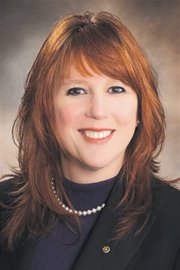 Of all the county officials elected to serve in Democrat-leaning Thurston County, Kim Wyman is currently the only Republican in office.
Re-elected to her fourth term as Thurston County auditor in November 2010, with a whopping 66 percent of the vote, most figure it's a testament to the non-partisan and collaboratively engaging leadership style with which she manages her office.
Considered by many as the front runner for Washington Secretary of State Sam Reed's seat in this November's General Election, Wyman has already hit the early campaign trail. One of her first stops on a recent swing through the Yakima Valley was Sunnyside, in an effort to let local voters put a face to her name and learn a little about why she wants the state's top job of chief elections officer.
Wyman said she believes that her slightly more than 20 years of management and technical work in the auditor's office have uniquely prepared her to replace Reed, who's chosen not to seek re-election this fall.
Reed, himself, couldn't agree more, having already thrown his full endorsement Wyman's way. Two other Republicans who have held the office of Washington Secretary of State, Ralph Munro and Bruce Chapman, are also on board with endorsing her for the position, as is former U.S. Congressman Sid Morrison of Zillah.
The names of those who have already thrown their support, and endorsements, behind Wyman are numerous, and as expected many are Republicans. Nearly as long, though, is the list of Democrats who are endorsing her for secretary of state, one of whom is Yakima County Auditor Corky Mattingly, a Grandview native.
The one common theme among Wyman's supporters is her non-partisan approach to running her office, as well as her commitment to constant innovation.
Wyman said she has strived to always maintain a balanced approach to security, integrity and access in elections, matters of finance, public records and licensing. That approach, she believes, has earned her the respect of her constituents and colleagues.
Having worked a decade for Reed, the Thurston County auditor before seeking and winning the secretary of state's seat, Wyman said she gained a foundation to perform the job well.
"The most important thing I learned from Sam Reed is the importance of the non-partisan part of the job," said Wyman. She said the state's election laws are clearly spelled out, and they must be adhered to strictly.
Wyman said her former boss took a lot of heat, especially from the GOP faithful, when the controversial recount of votes took place in the governor's race between Chris Gregoire and Dino Rossi. She said Reed came under a lot of fire, but he performed the task before him as outlined by state law, completing the job in a non-partisan way.
"I have the utmost respect for Sam Reed," Wyman said.
If Wyman is successful in this fall's elections, she said she plans to use her experience as Thurston County auditor to achieve three priorities.
Her first goal will be to maintain the confidence Washington residents have in the accuracy and accessibility of statewide elections, "...by building upon the successful reforms enacted since 2004, such as modernizing the statewide voter registration database."
Wyman's second priority will be to aid in improving the state's economy. She explained the secretary of state's office can make it easier for businesses to identify and adhere to all of the state and local governmental regulations for starting and operating a business.
The third priority, said Wyman, will be to protect access to open public records, as well as "...preserve our state's history in our state libraries and archives."
Wyman went on to say Reed was successful in establishing an account, funded by fees paid by those accessing state records, that are to one day be used to build the Heritage Center, a permanent facility that is intended to house Washington's historical documents. Unfortunately, said Wyman, state legislators keep "borrowing" from the account and the project can't get off the ground.
If elected to Reed's seat, Wyman said she intends to keep pursuing the dream he has of one day seeing the Heritage Center come to fruition.