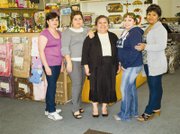 When Rosa Linda and Abner Vazquez acquired the building that was once known as H&H Furniture on South Sixth and East Edison Avenue in Sunnyside, they had envisioned the facility as a haven for their ministry work.
But with city building codes, the facility was only approved for commercial use.
"We already put a lot of work into the building and to make it usable for our ministry, we would have had to do a lot more," Mrs. Vazquez said.
So, the two went back to the drawing board, and after brainstorming and consulting with friends and family, the couple realized the flea market business was locally under-utilized.
"We have seasonal flea markets in Pasco, Toppenish and Yakima," she added. "But when the weather gets bad, they have to shut down."
When thinking of how to utilize their newly acquired facility, Vazquez says they wanted to bring something new to Sunnyside's community, while also adding to the downtown vitality.
Now, Sunnyside residents and visitors can visit the old furniture store site, and be met with the newly opened Indoor Flea Market.
"All of our vendors are individually licensed," she added. "...and they sell just about everything you can think of."
Currently, the 3,000 square foot facility, that officially opened two weeks ago, has 10 occupants with the capability of housing nearly 20 vendors.
"This is a place where nice items are offered at a good price," Vazquez added.
The Vazquez couple, still wanting to give back to the community, began partnering with a non-profit organization out of Yakima.
For that reason, the flea market facility also serves as a LifeGate Outreach ministry location.
"My husband and some others go up to Yakima and pick up supplies, like toiletries, school and medical supplies, clothes and shoes for those in need," she added.
LifeGate Outreach is a non-profit ministry that partners with other local non-profits, which serve the children, the needy and the sick in the local area. Dry goods are received from World Vision and local merchants. These items are distributed each Friday at the Sunnyside location beginning at 11 a.m. Each week the outreach hosts more than 100 Sunnyside area families.
The vendors at the market currently offer everything from clothes, to snacks, to jewelry, to wooden artwork and much more. The market is open to the public seven days a week, from 11 a.m. to 6 p.m.
"But when the weather changes, we might change the hours to be open longer," Vazquez added.
For more information on how to obtain spaces at the Indoor Flea Market, contact Mr. Vazquez at (509) 305-1059, or Mrs. Vazquez at (509) 305-1004.