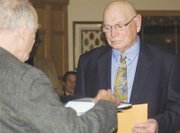 After working for 50 years in health care, Sunnyside Community Hospital CEO Jon D. Smiley reminisced the good times at his retirement party held last Friday.
Nearly 100 people packed the banquet room at Snipes Mountain Brewery to show their gratitude and share memories of Smiley.
After his first attempt at retirement more than 20 years ago, Smiley went to work at Sunnyside Community Hospital. Over the years many of his colleagues say he's been like a mentor and a friend; someone who believed in his coworkers and always hoped for the best possible outcome.
Relentless
More than 18 years ago, Sunnyside's Tom Lathen was unemployed.
"In 1993 I was unemployed for nine months, Jon hired me and changed my life," he said.
Lathen has now been working at the hospital for nearly 18 years and is currently serving as the hospital's community relations director. Throughout the years he has seen Smiley at work, and can only describe him as "relentless." Lathen says the CEO was very dedicated to his work, and he loved it.
"Nobody works harder than he does," he added.
Sunnyside resident LaDon Linde says it's amazing to see the 75-year-old man still working as hard as he does.
"He puts younger people to shame," he said.
Dedicated
A former employee of Sunnyside Community Hospital, Jim Schlenker of Pendleton, Ore. says when he thinks of Smiley one word comes to mind: dedicated.
"He's been a part of health care for more than 50 years, that shows dedication," he added. "He's been an asset to the health care community and a personal mentor of mine."
Local veterinarian Dr. Jon Mercer says Smiley proved his dedication to the community by coming to Sunnyside after a full career in health care.
"We all owe him a lot," Mercer added. "We are all going to miss him."
Mentor
Sandra Linde, the hospital's special project coordinator, says Smiley has always been supportive of hospital staff, and allows them to grow and expand with no micromanagement style.
"He lets us look outside the box," she added.
She says she's thankful for his kind of leadership and mentorship.
Sunnyside Community Hospital Human Resource Director Lisa Garcia says Smiley's compassion for the health care community and the hospital employees has earned him lots of respect.
"He has given so much of himself to our community, and has never asked for anything in return," she added.
In addition, Garcia says he's acted as a mentor to many of the hospital employees, and took time to really get to know them.
"He's taught us to continue striving to improve, to never stop trying, and something will transpire through it all," she said.
The road to retirement
Though Smiley says he's enjoyed his career and will miss the employees and board of directors at the hospital, it's time for retirement.
But he isn't going far, however. He plans to stay in the area with his wife Mary, and tend to their grape juice vineyards.
"We kept 25 acres of the vineyards, so I can't get too mischievous," he said.