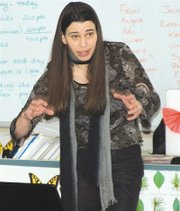 Gonzaga University and Sunnyside High School have teamed up to bring peer mentorship and curriculum development to the district.
Earlier this year a group of SHS leadership students traveled to Gonzaga University to glean wisdom and knowledge from university counseling department students.
Students came back to Sunnyside with a vision to help their peers, build relationships and connect with the school and community to envision the future of local students.
"Students are more likely to be successful and graduate when they are involved," says SHS junior Jackie Garcia.
Leadership students are still meeting with their college mentors through video calling and over the phone to help create and implement a peer-to-peer mentoring program.
University students also benefit from the process by being able to implement theories they've learned in class.
SHS junior Esmeralda Fernandez said it's important for students to know they can succeed.
"We want to show our peers that same lesson," she said. "... and help students realize they can do something big."
In addition, Gonzaga professors Elaine Radmer and Anny Case are working with SHS teachers to enhance the learning experience for area students.
Radmer helped write the state-required end of course exam in biology. In addition, she's working with science teachers at SHS to ensure the curriculum aligns with the exam.
Professor Anny Case is working with teachers and students to teach and learn English as a second language.
The partnership with Gonzaga, according to SHS Vice Principal Dave Martinez, is largely due to the school's principal, Chuck Salina, and his involvement with the university.
"Gonzaga is a mission oriented university," Martinez said. "They care about our teachers and are mostly showing them what they are already doing right."
Martinez says he hopes the partnership continues for years to come, because it's paying off in a big way.
Additional goals of the student mentorship program include increasing the graduation rate at Sunnyside High School. According to the Washington Office of Superintendent of Public Instruction, more than 70 percent of the school's students graduated in 2011.
"That's up 46 percent from four or five years ago," Martinez said.