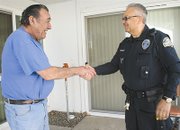 Sunnyside Police Officer Chico Rodriquez is an invaluable member of the Sunnyside Police Department, and the community he serves.
That's according to the consultants with MGT of America, as well as those who come in contact with him on a daily basis.
During a recent police study conducted by the Austin, Texas-based consulting firm, the Housing and Urban Development (HUD) officer, who has devoted 31 years to serving the citizens of Sunnyside, was cited for the contributions he's made in his role with the city.
"Aside from responding to calls, the HUD officer is also tasked with creating block watches and helping to educate the tenants. The HUD officer is one of the most tenured officers in the department and has a very strong relationship with the community...the HUD officer is a positive addition to the (police) force and provides balance to the current gang elimination strategy," said the consultants.
Rodriquez is a mild-mannered officer, who believes in the citizens of Sunnyside.
"I believe everyone deserves respect," he said.
Since March of 2010, Rodriquez has been tasked with patrolling seven neighborhoods managed by the Sunnyside Housing Authority. Prior to that, he was a school resource officer.
"I was rotated out of the school district when it became apparent there wasn't enough funding for a third SRO position," said Rodriquez.
He said there was, however, a need for an officer whose focus was on the Sunnyside Housing Authority properties.
"I've been developing relationships with the residents," said Rodriquez, stating there are just more than 100 apartments with residents who live on limited incomes residing within the seven HUD developments in Sunnyside.
His job involves a lot of community policing and crime prevention.
"It's important to develop trust," said Rodriquez, who believes there was a "gap" in policing the neighborhoods before he was reassigned to his current role.
Since taking on the responsibilities of watching out for those living in the HUD developments, he said no trespassing signs have been installed to help ensure the safety of those living in the neighborhoods.
Rodriquez said those signs are important because they deter individuals not belonging to the neighborhood. His presence adds to the deterrent.
"I have made contact with several individuals taking shortcuts, letting them know they need to travel the sidewalks," he said, stating some of those whom he has had to warn of trespassing violations and the ramifications of such activity include students.
"The residents have told me there is less foot traffic and they feel safer with a police presence," said Rodriquez.
Felipe Rendon and Gloria Cantu, residents in the senior housing neighborhood on Federal Way, agreed. Both said they feel they do not have to stay inside their homes.
"Chico's doing a good job...we see him a lot and my car hasn't been broken into," said Rendon, adding, "He's made it safe."
Cantu said she believes Rodriquez has been a great resource for residents, as well. "We can call him with legal questions," she said, stating Rodriquez helped her find services for someone who is on a limited income.
As for the safety of the residents, she said, "It's much easier for us...we feel safe because we can call Chico when we have a problem."
Cantu continued, "It reduces the tension and fear, knowing we have an officer who we can turn to when we need to."
The MGT report was filled with data that pointed out what was described as "unsustainable" overtime hours put in by local police officers in 2010 and 2011. Rodriquez has the third lowest overtime rate of all the Sunnyside police officers last year. He said that overtime was spent on events like National Night Out. The police department paid him just more than $6,600 for 143 overtime hours in 2011.
He said his job is about helping the community in whatever way he can.
"Citizens were afraid to leave their homes due to thefts from vehicles, graffiti and a lot of foot traffic...now, they feel as if they can leave and enjoy their neighbors," said Rodriquez.
Keeping those people out of the HUD neighborhoods who aren't tenants there helps further prevent crimes because, said Rodriquez, it makes it easier to identify who belongs in the neighborhood.
"This is a positive continuation of serving the community as a whole," he said.
The statistics spell out the difference. Residents in the HUD properties in 2008 reported 215 total criminal offenses. In 2010, the number dropped to 167, and in 2011 the number was even lower at 134 offenses.
Rodriquez said the improving statistics are due in part to the trust the residents feel toward him.
Cantu agreed, stating, "They (the residents) all say 'I'm going to call Chico'."
Rodriquez said, "Everyone needs to feel they can count on us (the police)...they need to feel respected."